The Marlins have played to a 38-42 record since changing their name and logo, moving to a new stadium and spending aggressively on free agents, but the slow start will not stop them from adding midseason reinforcements before this year's trade deadline. The Marlins have acquired Carlos Lee from the Astros for Matt Dominguez and Rob Rasmussen, the teams announced. The move should provide Miami with some much-needed offense at first base and add depth to the Astros' minor league system.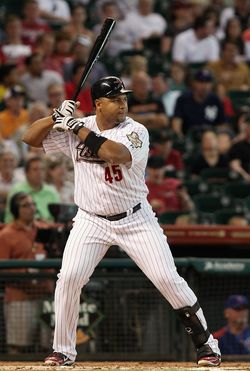 "Carlos has been an important part of our team and our community in Houston for almost six seasons and he will be missed," GM Jeff Luhnow said. "We made this move with an eye towards the future, and are very excited about adding Dominguez and Rasmussen to our talent base. Both players have a bright future."
Lee, 36, is earning $18.5MM in the final season of a six-year, $100MM contract. The Astros are covering all but the pro-rated minimum of Lee's salary, Juan C. Rodriguez of the Sun Sentinel reports (Twitter links). Though Lee didn't enjoy no-trade protection in the form of ten and five rights, his contract allowed him to block trades to 14 clubs. The Marlins weren't on Lee's 14-team no-trade list.
Lee has five homers and a .286/.336/.412 batting line in 274 plate appearances so far in 2012. He has slowed down in recent years, but his bat will still represent an upgrade over Gaby Sanchez's .194/.240/.283 batting line.
Dominguez, 22, has a reputation as a strong defensive third baseman, but he projects as a below-average hitter. The 2007 first round selection posted a .234/.291/.357 batting line at Triple-A this year and he has a .252/.321/.410 batting line in six minor league seasons. Dominguez, who appeared in 17 games on last year's Marlins team, ranked fourth on Baseball America's list of top Marlins prospects following the 2011 season.
Rasmussen, 23, entered the season as Miami's seventh-best prospect, according to Baseball America. The 5'9" left-hander has a 3.90 ERA with 7.7 K/9 and 3.7 BB/9 in 87 2/3 innings as a starter at Class A Jupiter this year. The Marlins selected him in the second round of the 2010 draft.
ESPN.com's Buster Olney first reported the deal. Photo courtesy of US Presswire.