The Rangers acquired Ryan Dempster from the Cubs for minor league third baseman Christian Villanueva and minor league right-hander Kyle Hendricks.  The Braves and Dodgers were favored at various points for Dempster, but the Rangers jumped in and made the move and the 35-year-old approved the deal.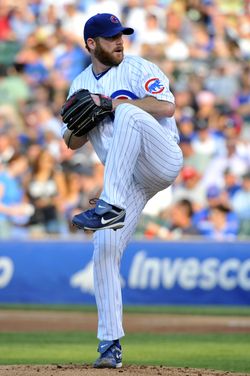 Dempster was drafted by the Rangers in the third round way back in 1995 and was traded to the Marlins the following year.  In recent years, he's been a reliable starter for the Cubs, acquiring 10-and-5 rights.  The Rangers' need for starting pitching was heightened when Colby Lewis went down this month. 
Dempster posted a 2.25 ERA with 7.2 K/9, 2.3 BB/9 and a 42.1% ground ball rate in 104 innings with the Cubs this year.  He's earning $14MM — nearly $5MM between now and the end of the season — and will hit free agency this fall.
The Rangers won't be eligible to obtain draft pick compensation for Dempster, since they're acquiring him midway through the last year of his contract.  If the Cubs had kept Dempster, they could have made him a one-year qualifying offer following the season and been eligible for a compensatory pick in 2013.
Villanueva, 21, has a .285/.356/.421 batting line in 425 plate appearances with Class A Myrtle Beach this year. The third baseman entered the 2012 season as the 100th-best prospect in MLB, according to Baseball America. He has a .286/.350/.438 batting line in four minor league seasons.
Hendricks, 22, has a 2.82 ERA with 7.7 K/9 and 1.0 BB/9 in 130 2/3 innings over the course of 20 starts at Myrtle Beach. The 6'2" right-hander has 150 strikeouts and just 21 walks in 166 1/3 innings since being selected in the eighth round of the 2011 draft.
The Braves nearly acquired Dempster for Randall Delgado, but the trade didn't go through.  Instead, Atlanta obtained Paul Maholm and Reed Johnson from the Cubs in a trade that was announced last night.
ESPN's Buster Olney first reported the trade and Evan Grant of the Dallas Morning News reported which prospects were involved. MLB.com's Ken Gurnick and Scott Miller of CBS Sports had early word of the deal, which made it in just under the trade deadline buzzer. Ken Rosenthal of FOX Sports first reported that the Cubs would obtain two Class A prospects.  Photo courtesy of US Presswire.