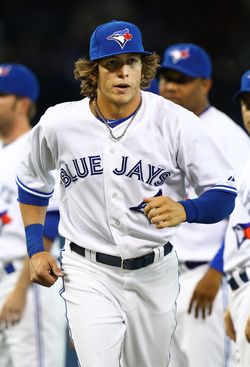 It's been exactly one year since the Blue Jays, Cardinals and White Sox completed the complicated three-team trade that sent Colby Rasmus to Toronto. The Cardinals have an 88-70 regular season record in the last calendar year, plus the 11 postseason wins they earned en route to the 2011 World Series championship. Meanwhile, Rasmus has hit 20 homers and posted a .224/.283/.419 batting line in 543 plate appearances with the Blue Jays. He struggled after arriving in Toronto last summer, but has hit for power so far in 2012, and now has 17 home runs on the season. 
I spoke with Rasmus earlier in the month. Here are some of his reflections on the trade, his ability and playing in Toronto: 
MLBTR – Looking back, what are your thoughts on the trade?
Colby Rasmus – I'm definitely happy I got traded. I've enjoyed my time here since I've been here. When I look back at my time here, I feel like I've worked hard, played hard and that's all I can do. So I'm happy with it.
MLBTR – Did you expect to be traded?
CR – I was about 50-50. It was kind of hard to tell because in baseball nobody knows until it happens. I thought maybe there was a chance because of some of the things that went on. Things weren't meshing very well. I thought there was definitely a chance that I could be moved. 
MLBTR – Did you block out all of the reports last summer, or was it impossible to ignore?
CR – I tried not to follow that stuff, but sometimes it's hard because you see TVs in every clubhouse. They don't turn the TVs off baseball. So we listen to everything everybody says even though you try not to. With the fans of St. Louis they're a different breed. They're all into their baseball. They know every stat, everything that's going on in the papers. You run into fans everywhere you go. So yeah some of those things I would hear I would try to keep as much of it out of my mind as I could. 
MLBTR – What's the biggest difference between this year and last year?
CR – The biggest difference I would say is comfort level. Here I just feel more accepted, wanted. Nobody bothers me. I just go out and play my game and that way I have confidence in my game. In St. Louis I started to lose my confidence because maybe I didn't do things a certain way that they liked or wanted. I think it should be between the white lines. The other stuff should be set aside.
MLBTR – How do you evaluate your performance in St. Louis and in Toronto?
CR – I feel like I played some good baseball in St. Louis. I definitely still haven't played to my potential, but in 2010 I hit .276 with 23 home runs and 60 [actually 66] RBI. That's a pretty good year I felt. This year, like I said, I've been more comfortable with the things I'm doing. That way every day I can have a bit more of a routine that I like that fits me better and makes me confident to play on the field. So I feel like I've still got a long way to go. I can still get better. I haven't had the best of luck at times, but that's baseball. I'm just going to try to continue to try to learn ways to help myself and help my team play better.
Photo courtesy of US Presswire.