Carlos Santana and Jonathan Lucroy recently signed extensions, but some other catchers are on track for year to year raises through arbitration. Three of the game's top young backstops will be arbitration eligible for the first time following the 2012 season. Matt Wieters, Alex Avila, Buster Posey are well-positioned for 2013 salaries in excess of $2MM if they stay healthy this year.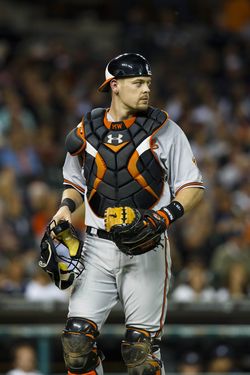 Deals from long ago, players from different service classes and long-term extensions won't generally have sway in the arbitration cases for players such as Wieters, Avila and Posey who determine salaries year to year. Catchers are typically self-contained in arbitration, meaning players at other positions don't figure into the discussion most of the time. For comps to have pull with agents (and the MLBPA) and teams (and the Labor Relations Department), they have to be recent and relevant.
What's relevant? First-time eligible catchers who agreed to one-year deals via the arbitration system provide the framework within which the salaries for Wieters, Avila and Posey will be determined. Reaching back more than five years would be pushing it, which further limits the selection of comparables. Many top catchers (Brian McCann, Yadier Molina) signed long-term deals and other potentially comparable catchers like A.J. Pierzynski went to arbitration long ago (post-2003). These cases aren't centrally important to Wieters, Avila and Posey.
We're left with the Arb-1 salaries for Russell Martin ($3.9MM), Geovany Soto ($3MM), Nick Hundley ($2MM), Miguel Montero ($2MM) and Mike Napoli ($2MM). Each of those settlements came within the last five years and could help determine the earnings for this offseason's first-time eligible backstops. Before signing his first extension, Joe Mauer and the Twins exchanged arbitration submissions and arrived at a $3.9MM midpoint ($4.5MM vs. $3.3MM). Those six-year-old filing numbers could also figure in to next winter's cases.
Posey didn't play after a gruesome home-plate collision ended his season last May, so there's no way he'll measure up to players such as Avila, Wieters, Soto and Martin in terms of bulk stats like games, plate appearances and RBI. Posey resembles Soto, another NL Rookie of the Year winner, on a per-game basis, but he probably won't catch up to the Cubs backstop in terms of counting stats.
With a full season, Posey should have better bulk numbers than Hundley, Napoli and Montero did as first-time eligible catchers. Each member of that trio obtained $2MM their first time through the arbitration process, so a salary in the $2-3MM range is within reach for Posey.
If Avila plays in 104 games, makes 470 plate appearances, hits 23 homers and drives in 69 this season, he'll have matched the career stats Soto had as a first-time eligible player. Avila could match Martin in homers, and a better platform year is within reach. But in terms of most significant counting stats, Avila won't measure up to Wieters and Martin, the record holder for first-time eligible catchers. Still, Avila's similarity to Soto should set him up for a comparable payday in the $3MM range.
Wieters will have distinguished himself from $2MM catchers such as Hundley, Montero, Napoli and John Buck by the time the season ends. In fact, it's not hard to argue that he has already done so. The switch hitter currently compares well with Soto's post-2010 career numbers despite his relative inexperience. He'll match Soto's career numbers with eight more homers and 21 RBI, but the Cubs backstop had a better career batting line. Even so, $3MM seems quite attainable for Wieters.
With a healthy season, Wieters would surpass some of the numbers Martin had as a first-time eligible player. The Orioles catcher is on track to have more games, plate appearances and RBI than Martin did when he set his record after the 2008 season. And Wieters' bulk numbers are already superior to those Mauer had as a first-time eligible player. However, Wieters doesn't offer Martin's speed or the batting average and on-base percentage that Martin and Mauer both had. Wieters' 2013 salary could be closer to $4MM than it is to $3MM, but it's unreasonable to expect him to break any records just yet.
These informal projections could change quickly. As Posey knows all too well, injuries can interrupt seasons and limit bargaining power. Playing time is one of the most important determinants of a hitter's salary, so these three catchers must stay healthy to remain on track. If all goes well, their salaries will climb above $2MM following the 2012 season.
Photo courtesy of US Presswire.