After eight-plus seasons in the Major Leagues Nick Swisher is just a few months away from hitting free agency for the first time. While some players obtain major paydays on the strength of a single breakout season, Swisher will appeal to teams because of the consistent production he has provided since emerging as an MLB regular in 2005.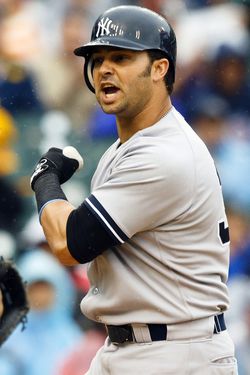 Swisher has never appeared on an MVP ballot or won a major award. He has never hit .300 or driven in 100 runs. And he has never generated five wins above replacement in a year.
What's more, Swisher was a below-average defensive right fielder in 2011, according to a pre-season scouting report in The Fielding Bible: Volume III. He entered the 2012 season with average arm strength and accuracy, but below-average range, according to the publication. He turns 32 a few weeks into the offseason, so it'd be unreasonable to expect considerable defensive improvements at this stage.
Yet Dan Lozano of Icon Sports Group can make a strong case that Swisher is one of the game's top outfielders. Since he played his first full season in 2005, Swisher and fellow 2013 free agent Josh Hamilton are tied for 10th in wins above replacement among MLB outfielders, according to FanGraphs. Just ten players have averaged at least 25 homers and 140 games played per season during that same eight-year period. Swisher's one of them, along with noted power hitters Albert Pujols, Matt Holliday, Paul Konerko, Prince Fielder, Miguel Cabrera, Adrian Gonzalez, Carlos Lee, Mark Teixeira and Adam Dunn. It's nothing more than trivia for now, but this sort of minutiae corroborates the point that Lozano will no doubt be making as he converses with team executives: Swisher is a durable player with an above-average bat.
To what extent will those attributes pay off? Swisher will surely decline when the Yankees extend him a qualifying offer following the season (qualifying offers are for one year and $13MM-plus). He can expect multiyear proposals as a free agent, so he'll reject the Yankees' offer, even though it'll mean the team that eventually signs him will have to surrender a draft pick.
It appeared for a while that outfield depth would be a strength of the upcoming free agent class. But Melky Cabrera has been suspended for the remainder of the season and Carlos Quentin and Andre Ethier signed extensions. This means Swisher, Hamilton, Cody Ross and center fielders Michael Bourn, B.J. Upton and Shane Victorino will be among the best outfielders available. In theory, these outfielders should benefit from reduced competition.
Jayson Werth obtained a seven-year, $126MM contract after hitting .296/.388/.532 with 27 home runs and 82 walks in his age-31 season. Lozano and Swisher are expected to aim big and compare Swisher, now in his age-31 season, to Werth in the hopes of matching his $126MM deal. It would only take one unexpectedly aggressive MLB owner for Swisher to obtain $100MM so it makes sense to be aggressive, but a nine-figure contract seems unlikely.
Jason Bay, who signed for four years and $66MM following his age-30 season, and Michael Cuddyer, who signed for three-years and $31.5MM following his age-32 season, could also be points of reference in offseason discussions. As of now, it'd be a surprise if Swisher doesn't eclipse the contract Cuddyer signed last winter.
We're just three quarters of the way through the 2012 campaign, so there's lots of time for Swisher's free agent stock to rise and fall before the playoffs even start. With so many games remaining, it's too early to predict the market for Swisher with much certainty. He won't be the premier attraction of the offseason — that honor goes to Hamilton –  but it's a safe bet that he'll obtain a raise from his current $10.25MM salary on a contract of no less than three years. He could end up signing of the offseason's largest free agent deals.
Photo courtesy of US Presswire.