Few observers would argue that Mike Napoli and Jeff Mathis have similar strengths relative to their fellow MLB catchers. Anything but. One is a power hitting All-Star; the other is a defensive specialist with a history of below-average offensive performances. While categorizing the players themselves as opposites would be overly simplistic, they have taken divergent paths in one significant respect: their contracts.
Both Napoli and Mathis entered the 2012 season with one-year deals, five-plus years of service time, and free agency approaching quickly. Napoli has tabled extension talks for now and is still on track to hit free agency this offseason. Meanwhile, Mathis bypassed the open market last week for the security of a two-year, $3MM extension. Deciding to give up free agency with six weeks to go in the season was difficult for the Blue Jays catcher.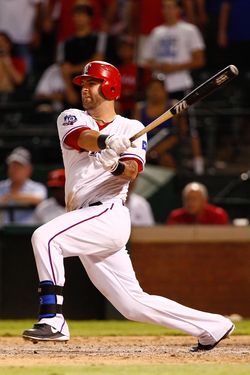 "It was. There's no doubt about that," he told MLBTR this past weekend. "Ever since you come into professional ball that's what you wait for really. You get to see what kind of teams want you for the first time ever. It was tough giving that up, but the Blue Jays made the decision worth my while and we got something done."
Mathis said contract talks began a little more than a month ago and accelerated after the non-waiver trade deadline passed. For someone who has played exclusively on one-year deals, the security of a multiyear contract had considerable appeal.
"It's big," he said. "We're in this game to stay, you want to stay around as long as you can and try to get that tenure in and try to be with a team that you think is going in the right direction and win some ballgames and that's where this organization is at."
While Mathis and his representatives at Jet Sports Management undertook the task of negotiating a contract in the midst of the season, Napoli said he hasn't had recent talks with the Rangers. He's now on the disabled list with a quad injury and doesn't appear to be thinking about free agency.
"I really can't control any of that right now," Napoli told MLBTR. "I want to be [in Texas]. I want to stay here, but I'm just worried about getting back on the field and trying to help our team get in position to make a run at it."
Multi-Dimensional
Napoli and Mathis have existed and co-existed on opposite ends of the offensive spectrum as Major Leaguers. A total of 37 catchers have appeared in at least 400 games since 2006, the first year Napoli and Mathis got considerable playing time at the MLB level. Napoli leads the group of 37 with a .502 slugging percentage and he ranks second in OPS, trailing only Joe Mauer. Conversely, Mathis ranks last in on-base percentage (.256), slugging percentage (.314) and OPS (.570) since 2006.
Yet the Blue Jays saw enough from Mathis on defense and at the plate to extend him through 2014. Napoli said he was pleased to see his longtime teammate obtain a multiyear contract. And he suggested Mathis' offense — a career-best .664 OPS with seven home runs — might be sustainable.
"I played with him in the minors so I've seen him hit," Napoli said, alluding to Mathis' minor league successes at the plate. "To see him come back and be able to do it again is good. He looks comfortable. He's playing and having fun."
If Mathis' bat has been a pleasant surprise, Napoli's is a known commodity. Mike Piazza and Hall of Famers Johnny Bench and Roy Campanella are the only catchers in baseball history to out-homer Napoli through seven MLB seasons. Napoli may not be Cooperstown-bound, but he should still get credit for his glovework as well as his offense, according to Mathis.
"He's always been able to hit," Mathis said. "And I always thought he was a pretty good [defensive] catcher too. He had some injuries early and I guess kind of got a bad rap over there with the Angels. I've been around him for a long time through the minor leagues and in the big leagues and always knew he had it in him. I knew he was going to hit and become a good hitter, but I'm really happy to see what kind of catcher he evolved into."
Up Next
Mathis is set for the foreseeable future, yet the uncertainty and opportunity of the open market looms for Napoli. His agent, Brian Grieper, had preliminary extension talks with the Rangers, but the sides agreed to table discussions following the All-Star break.
Grieper suggested in April that Napoli would seek a contract worth more than Victor Martinez's four-year, $52MM deal and less than Yadier Molina's five-year, $75MM deal. Miguel Montero's five-year, $60MM contract could also figure in to talks when they resume after the season. Napoli's leg injury won't help his free agent stock, and neither will the dropoff in production (at least compared to his exceptional 2011 year). Still, catchers who can hit are always in demand.
As baseball executives and agents prepare to navigate a new set of rules for the first time, this winter's transactions promise to be as complex as ever. The Rangers could make Napoli a one-year qualifying offer worth $13MM-plus under the sport's new collective bargaining agreement. Such an offer would link Napoli to draft pick compensation and could affect his free agent value, but it's not a possibility on which he chooses to dwell.
"My agent explained it to me and I understand it, but I let him take care of it," Napoli said. "He fills me in on everything I need to know."
Until the offseason begins, that won't be much. But once the free agent bidding gets started, Napoli can expect his share of calls.
Photo courtesy of US Presswire.