Jair Jurrjens entered the 2012 season with a career ERA of 3.40 and a sparkling 50-33 record. He had just obtained a substantial raise through the arbitration process and seemed to have established himself as an All-Star caliber pitcher.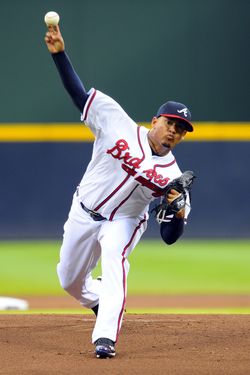 But he has pitched ineffectively this season, struggling as a Braves starter and getting a demotion to the minor leagues. He's now on the disabled list and he's not getting any more affordable, so the Braves will have to consider removing him from their roster by the December deadline for tendering contracts to arbitration eligible players.
The Tigers signed Jurrjens back in 2003 and traded him and Gorkys Hernandez to Atlanta four years later for Edgar Renteria. In 2008, his first season with the Braves, Jurrjens started 31 games and finished third in the Rookie of the Year balloting. By 2009 he had reached the 200-inning plateau and posted a 2.60 ERA with twice as many strikeouts as walks. And in 2011, he made the National League All-Star team, posting a 2.96 ERA with 5.3 K/9, 2.6 BB/9 and a 42% ground ball rate in 152 innings.
Yet the 2012 season has consisted of one disappointment after another. Jurrjens struggled through four April starts and, after losing his rotation spot and being demoted to the minor leagues, posted a 5.18 ERA with 4.7 K/9 and 2.2 BB/9 in ten forgettable starts at Triple-A. The Braves recalled him in late June, and he made seven more appearances before hitting the disabled list with a strained right groin. In total, he has a 6.89 ERA with about as many strikeouts (19) as walks (18) in 48 1/3 innings at the MLB level this year.
Given that stat line, it's not surprising to learn that Jurrjens' stuff appears to be in decline. His average fastball velocity has declined for the fifth consecutive season and now sits at 88.6 mph, according to FanGraphs. And among pitchers with at least 40 innings this year, only Burke Badenhop, Bartolo Colon and Aaron Cook generate a lower percentage of swings and misses than Jurrjens, who induces swinging strikes on fewer than five pitches for every 100 thrown (4.6%). Simply put, hitters aren't have any trouble connecting with his offerings. 
Jurrjens earns $5.5MM this year and is on track to go to arbitration for the third and final time this coming offseason. He projects to earn $5.9MM in 2013 if he continues pitching at the MLB level and the Braves tender him a contract, MLBTR contributor Matt Swartz estimates. That would be a major commitment for a player who might not even make the Braves' 2013 rotation, so the possibility of a non-tender looms despite his past contributions.
Though Jurrjens seems headed for free agency this winter, another option exists. There could be a team looking for pitching — the Royals, Rockies, Astros or Twins, perhaps — that would be willing to take a chance on a 26-year-old one year removed from an All-Star season. The Braves, who were said to be willing to listen on Jurrjens last offseason, wouldn't get much in return this time. But it's a possibility general manager Frank Wren will surely consider if it would allow the Braves to obtain something of value in return.
Photo courtesy of US Presswire.