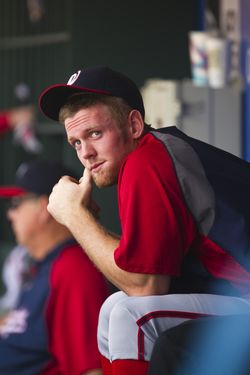 Innings limits and pitch counts are a relatively new phenomenon in baseball, as clubs go to great lengths to protect both their top young arms as well as their investments. No workload limitation in history has garnered as much national attention as Stephen Strasburg's, the 24-year-old former first overall draft pick, first-time All-Star in 2012, and Tommy John surgery survivor.
Nationals manager Davey Johnson announced this morning that last night's five-run, three-inning outing against the Marlins would be Strasburg's final start of the season, one fewer than originally announced. The skipper cited excessive media attention and other distractions that he felt were hurting the team overall, so he decided to pull the plug at 159 1/3 innings and 28 starts. Strasburg's performance during those 28 starts was Cy Young caliber, a 3.16 ERA with a league-best 11.1 K/9.
Of course, what makes the shutdown so intriguing is that the Nationals are in contention. They own baseball's best record at 86-53 following this afternoon's walk-off win, and are almost guaranteed to make the franchise's first postseason appearance since moving to the nation's capital from Montreal in 2005. A World Series contender voluntarily shutting down their best pitcher is certainly a controversial move worthy of debate.
That said, the Nationals are built for the long-haul. They'll still go into the postseason with a front three of Gio Gonzalez, Jordan Zimmermann, and Edwin Jackson, which is as good as any rotation in the game. Ryan Zimmerman, Bryce Harper, Ian Desmond, Danny Espinosa, Tyler Clippard, Drew Storen, and other core players are all on the right side of 30 as well. The Nats are as good a bet as any team to remain competitive going forward. Shutting Strasburg down could cost them a shot at the World Series this year, but it may greatly increase their chances of winning multiple titles in the future.
Photo courtesy of US Presswire.