Curtis Granderson capped off the 2012 season with a two-home run effort at Yankee Stadium yesterday, as New York beat Boston 14-2 and clinched the American League East title. His season isn't over yet — the Yankees will play in the Division Series starting this weekend — but for most of his peers in the MLB Players Association it's time to look ahead ahead to the offseason. Granderson, a prominent member of MLBPA's Executive Board, expects this winter to unfold more quietly than last it did a year ago, when the players and owners negotiated a new collective bargaining agreement.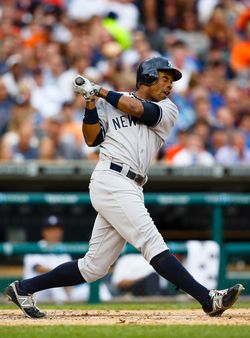 "All the main things that needed to be discussed happened last year," Granderson told MLBTR this past weekend. "There won't be any big, major holdups — just a few things to try to iron out that could start this year that may not finish up for the next couple of years. It'll just be a lot of discussion."
The talks will have a different tone this offseason. Though baseball's players and owners negotiated their current CBA without any of the public bickering that has accompanied recent labor discussions in the NFL, NBA and NHL, tense moments are bound to occur while determining the financial structure of a $7 billion industry. Now that major issues such as the luxury tax, the amateur draft and revenue sharing have been resolved through 2016, the MLBPA can focus on other details.
"Obviously there are always issues each year that arise and different things from new helmet regulations, pace of game, different things with performance enhancing drug issues that we've had this year, scheduling with another team going to the American League, Interleague Play starting in the first week of the season," Granderson said. "So just little things like that, but nothing major."
Granderson, one of two association representatives for the MLBPA (Jeremy Guthrie of the Royals is the other), will keep in contact with his fellow players via phone calls and text messages over the course of the coming offseason. When a major issue emerges, the MLBPA attempts to reach as many players as possible.
"We have ways of getting in touch with everybody," Granderson said. "Pretty quickly now, especially with everybody having a cell phone no matter where they happen to be in the world."
When he's not communicating with other MLB players, Granderson stays informed on labor unrest in other sports. Former MLBPA Executive Director Don Fehr represents NHL players in the current lockout, and Granderson, who worked a bit with Fehr in the past, has monitored talks with an outsider's perspective.
"I'm still a fan," he said. "I like watching those games and whenever they get the chance to go back out there, hopefully everybody's taken care of."
For now baseball players don't have major labor concerns of their own, which means fewer distractions for Granderson as the Yankees prepare for another postseason run.
Photo courtesy of US Presswire.