The Orioles will look for answers on the right side of the infield and pursue pitching depth.
Guaranteed Contracts
Arbitration Eligible Players (estimated salaries)
Contract Options
Free Agents
The moves that led the Orioles to their first postseason berth since 1997 weren't particularly splashy — certainly not the sort of deals that generate much hype. But Dan Duquette's plan worked, and the Orioles came within a game of playing for the American League championship. Expect more relatively low-profile moves as Duquette looks to reinforce the team this coming offseason.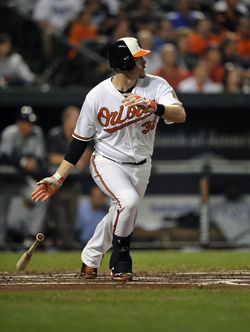 Like most playoff teams, the Orioles enter the offseason with many pieces in place for 2013. Yet they do have needs on the right side of the infield and uncertainty in left field. Pitching also figures to be a priority for Duquette and the team's front office executives.
Though Mark Reynolds recovered from a slow start to hit 15 home runs from August 1st on, the Orioles will likely decline the $11MM option on the infielder's contract. He'd then be eligible for arbitration, though with a projected salary of $9MM, they might decide to non-tender him. While Reynolds could be a fit at the right price, it might take some time for this to play out since the Orioles can't cut his salary by more than 20% until the November 30th deadline for teams to tender contracts to arbitration eligible players.
Second base presents another challenge for Duquette, who has a number of options at the position. Brian Roberts can't be relied upon at this stage, Robert Andino didn't hit much this past year and Ryan Flaherty's hardly a sure thing. Andino could be non-tendered with a projected salary of $1.8MM and unimpressive offensive numbers. 
The free agent market doesn't offer many compelling alternatives at second base. Kelly Johnson would add a lot of swings and misses to a lineup that already includes more than its share of high-strikeout hitters. Maybe a contact hitter such as Marco Scutaro would be a fit. Even at 36, Scutaro continues to provide versatility and reach base. Alternatively, Skip Schumaker doesn't appear to have a significant role on the Cardinals anymore. He's a solid hitter against right-handed pitching and boasts a career on-base percentage of .345, so the Orioles could target the 32-year-old in a trade. Players with on-base skills figure to appeal to Duquette, who spoke of improving the team's on-base percentage last offseason only to see Baltimore finish the year with a .311 OBP that ranked 23rd in MLB.
The Orioles could also add a left fielder if they intend to improve their offense next year. Josh Hamilton would represent a significant upgrade for an offense that finished 15th in MLB in runs scored this past season. He'd almost certainly require the largest contract in franchise history, a commitment owner Peter Angelos would have to approve. Angelos has spent on premium players such as Albert Belle and Miguel Tejada in the past, so a major free agent signing wouldn't be unprecedented. Nick Swisher and Melky Cabrera are among the other intriguing free agent corner outfielders, but the Orioles could simply rely on internal options.
Nolan Reimold has had success in the past and could remain in the left field mix next year. The Orioles could also look to re-sign Nate McLouth, who played well in Baltimore after signing with the team midseason. Endy Chavez, another free agent, probably won't return.
Adding a prominent free agent outfielder would be expensive, and the Orioles already have $53MM in pre-existing commitments for 2013. With an extremely large arbitration class that could cost $30MM next year, they don't appear to have a tremendous amount of payroll flexibility. While Duquette has indicated that the Orioles will have enough resources to "continue to field a highly-competitive team," that doesn't mean they're going to spend at the top of the free agent market.
It won't be surprising if the Orioles pursue starting pitching again this offseason. Though the Orioles already have a number of rotation candidates, including promising prospects Dylan Bundy and Kevin Gausman, they could look to acquire an established pitcher to join the likes of Jason Hammel and Wei-Yin Chen in the rotation. Perhaps Edwin Jackson or Ryan Dempster will be a target. Free agent left-hander Joe Saunders could be of interest to the Orioles, who pursued him last offseason before acquiring him from Arizona in a mid-season trade. At the very least, Duquette should pursue minor league free agents in case a Miguel Gonzalez-like contributor can be obtained for a modest guarantee.
Orioles relievers were among the best in the game at inducing ground balls and limiting walks and home runs this past season. Remarkably, they maintained this level of production while pitching the fourth-most innings in baseball, 545 1/3. Still, it makes sense to pursue relief help. The Orioles should exercise Luis Ayala's option following a strong season from the right-hander, and they shouldn't stop there. Adding another left-handed reliever could make sense given the team's righty-heavy bullpen and the possibility that Brian Matusz and Zach Britton will be starting.
As mentioned before, the Orioles have a large arbitration class with an MLB-leading 15 players eligible. The group includes non-tender candidates in Reynolds, Taylor Teagarden, Steve Pearce, Lew Ford and Omar Quintanilla. It also includes multiple extension candidates in Hammel, closer Jim Johnson and catcher Matt Wieters (pictured). As an All-Star caliber player entering his prime, Wieters has a strong case for a long-term deal. Though the Orioles will presumably look to obtain control of free agent years on an long-term deal, agent Scott Boras may advise his client to sign for three years or less so as not to delay free agency. Unless the Orioles can obtain team options or lock Wieters in for free agent years, it'd be better to go year to year in my view.
It sounds as though the Orioles have some interest in bringing Jim Thome back as a bench bat and designated hitter. Some of the team's other free agents — Chavez, Randy Wolf, Nick Johnson and Bill Hall — aren't expected to return.
A year ago this time it seemed like no one wanted to take the Orioles' GM job. Now, as Duquette prepares for his second winter in Baltimore, the franchise seems far better off. Yes, the team has some significant offseason needs, but with many key players in place and promising young players about to contribute at the MLB level, there are more answers than questions for the first winter in a while.
Photo courtesy of US Presswire.