The Angels will pursue starting pitchers and relievers in the offseason ahead.
Guaranteed Contracts
Arbitration Eligible Players (estimated salaries)
Contract Options
Free Agents
The Angels are expected to make significant changes to a team that fell short of expectations in 2012. While it'd be hard to match the kind of impact additions they acquired a year ago, GM Jerry Dipoto recently indicated to Mike DiGiovanna of Los Angeles Times that the Angels will be able to spend in the offseason ahead. "We've never been short of resources," the GM said.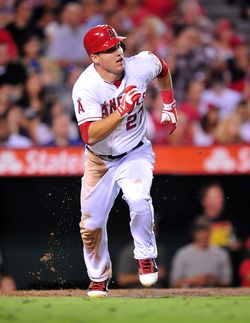 Zack Greinke will hit free agency as the top starting pitcher available. Whoever signs the right-hander will presumably complete a deal after he has listened to offers from other clubs. He didn't wait this long and turn down a nine-figure contract only to pass on free agency with weeks remaining before his best chance for a major payday. The Angels should bid on Greinke, an elite pitcher in his prime. They have the need and the resources, so spending in excess of $110MM would be justified.
The Angels are expected to decline club options for starters Dan Haren and Ervin Santana. Haren had a mediocre season, and won't be retained for $15.5MM. That shouldn't stop the Angels from making him a $13.3MM qualifying offer in my view. Extending a qualifying offer would lead to one of two desirable outcomes: Haren returns on a one-year deal or he departs, netting the Angels a compensatory draft choice in 2013.
Santana's option will also be declined following a season in which his ERA climbed over 5.00 and his fastball velocity dropped. He won't get a one-year qualifying offer from the Angels — it'd be an excessive commitment. Even if the Angels sign Greinke, they'll be expected to seek a back-of-the-rotation option to complement Garrett Richards and Jerome Williams. Dipoto will be able to address this need later in the offseason, when potential bargains exist in free agency.
While Torii Hunter had a tremendous season, there are signs that his production could fade in the relatively near future. Hunter led the American League in batting average on balls in play this past season, posting a career high mark of .389. That's not sustainable for anyone, let alone a 37-year-old with diminishing speed. Furthermore, Hunter's isolated power dipped for the third consecutive season. It must also be noted that at some point Hunter's defensive skills will decline. If the Angels want to re-sign Hunter for something like two years and $20MM, they should go for it. He's still a good player. But if it takes a longer term contract or significantly more dollars it'd make sense for the Angels to let him go. Even large market teams must be discerning with their money.
This brings us to Vernon Wells, the 33-year-old outfielder with two years and $42MM remaining on his contract. Though the Angels would reportedly like to trade Wells, he has limited trade value after a season in which he posted a .230/.279/.403 batting line and hit 11 home runs. Unless the Angels work out a deal involving a comparable bad contract or absorb $30MM-plus of Wells' contract, he's not going anywhere.
It's worth discussing the contract status of another Angels outfielder, even if he just completed his rookie season. Mike Trout might be viewed as an extension candidate after an extraordinary debut performance. While I understand the urge to lock Trout up, the Angels should be patient. The only players who compare to Trout at this point are Hall of Fame caliber talents, which means he'd be justified in demanding a historic financial commitment. If the Angels wait a year and Trout repeats his performance, they can pursue an extension at that point with the knowledge that a discount wasn't attainable. But if Trout's not quite as dominant in 2013, the Angels might be able to avoid paying him an unprecedented amount.
Though Alberto Callaspo will likely return to the Angels through the arbitration process, the Angels could seek upgrades at third base. There's not a whole lot out there now, either in trades or free agency. Dipoto should keep tabs on trade candidates in case someone like David Wright or Chase Headley becomes available. Alex Rodriguez, another potentially available star, wouldn't be a fit in Anaheim unless the Yankees are taking on a significant majority of the $114MM remaining on the 37-year-old's contract.
The Angels got an early start on the offseason this month, signing Chris Iannetta to a three-year extension. It seems likely that other prospective free agents including Maicer Izturis, LaTroy Hawkins and Jason Isringhausen will move on this winter.
Dipoto will be seeking bullpen help in the months to come. He has said he doesn't intend to pay a premium for relievers given the volatility of relief performances from year to year. Rafael Soriano might tempt the Angels if he opts out of his contract with the Yankees, yet a major free agent deal seems unlikely. Perhaps trade candidates such as Chris Perez and Joel Hanrahan will appeal to the GM instead. Alternatively, he could wait and obtain an affordable middle reliever or two in January or February.
The team's arbitration class could shrink to just three players if Williams gets non-tendered this winter. The remaining trio of Callaspo, Kevin Jepsen and Kendrys Morales shouldn't cost much more than $10MM in total and doesn't include any obvious extension candidates.
There's seemingly no chance the Angels will generate as much buzz as they did last winter. But Dipoto's roster already has enough star power that he doesn't need to make headlines for the offseason to be considered a success. He needs pitching and at this point that seems like an attainable goal.
Photo courtesy of US Presswire.