The Dodgers will seek pitching in their first offseason under new ownership.
Guaranteed Contracts
Arbitration Eligible Players (estimated salaries)
Contract Options
Free Agents
It's not uncommon for incoming ownership groups to gain control of a team and promise to spend. It is uncommon for owners to deliver on these promises with the speed and boldness that Mark Walter, Stan Kasten and Magic Johnson did. Guggenheim Baseball Management has been baseball's most aggressive ownership group since officially purchasing the Dodgers this spring, and it's not particularly close. If the trend of aggressive spending continues in the coming offseason, expect the Dodgers to shift their focus from position players to the starting rotation.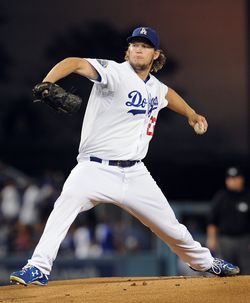 At a time that the Yankees won't stop talking about the luxury tax, the Red Sox are shedding payroll and the Cubs are re-tooling, the Dodgers are baseball's biggest spenders. They have committed $194MM to next year's team, tops in MLB. Even if you sliced the Dodgers' 2013 commitments in half, their future payroll commitments would rank in the top five.
Like the majority of teams with such extensive payroll commitments, the Dodgers are set at most positions. The timeline for Carl Crawford's return from Tommy John surgery remains unclear, but he's expected to return early in the season, so significant outfield reinforcements seem unnecessary. Shane Victorino doesn't fit in the Dodgers' outfield, since he'll get offers to start elsewhere.
Though the Dodgers also have plenty of infielders, GM Ned Colletti could pursue upgrades at third base or shortstop. It sounds like the club will stick with Hanley Ramirez at short while using Luis Cruz at third base. Cruz posted a .297/.322/.431 batting line in half a season after signing a minor league deal with the Dodgers last winter, but history and batting average on balls in play suggest he'll regress on offense. Alternatively, light-hitting shortstop Dee Gordon could play the more defensively demanding position and the Dodgers could have Ramirez play third. It doesn't sound as though the team has high expectations for Juan Uribe, who remains unproductive two thirds of the way through a three-year, $21MM contract.
In some ways Alex Rodriguez seems like a possible trade target for the Dodgers. The Yankees don't believe in Rodriguez's ability to produce at the plate right now — if they did then he would be in the New York lineup. Though Rodriguez has many doubters, the 37-year-old was an above-average offensive player in 2012. Plus, it's no secret the Dodgers have been willing to take on high-salaried players. I still don't think it'd be a wise move for the Dodgers to commit significant resources — say more than $30MM — to acquire Rodriguez, who's owed at least $114MM through 2017. There are too many health and performance-related questions surrounding the former first overall pick to justify an intense pursuit. Based on last summer's reports the Dodgers don't seem interested.
Colletti will have interest in adding a top-of-the-rotation starter to pair with Clayton Kershaw. Free agent right-hander Zack Greinke could be a target, and though he'd cost more than $100MM he'd be a worthwhile addition for the Dodgers. They have the resources, the need and, thanks to a midseason trade by their American League counterparts, evidence that Greinke can handle the pressure associated with the Los Angeles market.
However, Walter has hinted that the Dodgers don't intend to spend big on pitching, telling Dylan Hernandez that "pitchers break." Perhaps high-priced starters like Greinke and Jake Peavy are off-limits for now. If the Dodgers look to reduce costs, they could pursue trade candidates such as Josh Johnson and James Shields or free agents such as Dan Haren and Hiroki Kuroda. They have a built-in advantage when it comes to Kuroda, who appeared to enjoy pitching in Los Angeles for the first four years of his MLB career. Joe Blanton, one of Colletti's many late-season additions, figures to sign elsewhere when he hits free agency.
One of Josh Beckett, Chris Capuano, Aaron Harang and Ted Lilly figures to be traded, according to Hernandez. The Dodgers won't have trouble generating interest in their veteran starting pitching with teams like the Twins, Royals, Blue Jays, Angels, Cubs and Brewers seeking rotation help. None of these starters would have particularly high trade value, although Capuano and Harang are both coming off of solid seasons. Chad Billingsley might require reconstructive elbow surgery and doesn't appear to be a trade candidate.
The Dodgers appear to have some interest in right-hander Shohei Otani, a hard-throwing 18-year-old free agent. Though baseball's collective bargaining agreement will prevent Dodgers ownership from spending as aggressively as they otherwise might, they should still pursue top international prospects.
It's only been eight months since Kershaw signed an extension with the Dodgers, yet it's already time to consider a new deal. An extension would cover the left-hander's one remaining season of arbitration eligibility and a number of free agent seasons. The Dodgers would have to pay top dollar for Kershaw, who's coming off of consecutive Cy Young caliber years. He might cost more than $150MM this time, but it'd still be worth it for a large-market team to lock up one of the game's top pitchers through his prime. Not surprisingly, Kershaw would consider a new deal.
With Kershaw's 2013 salary already determined, the Dodgers have an exceptionally small arbitration class (it looks like Ronald Belisario will fall just short of super two status). Only A.J. Ellis projects as an arb eligible player and he'd probably earn less than $2MM on a one-year deal.
The Dodgers have three club options for 2013 and they can all safely be declined. Juan Rivera no longer looks like a $4MM player; Todd Coffey will miss the beginning of the 2013 season with Tommy John surgery; 36-year-old Matt Treanor struggled at the plate all year, especially down the stretch.
A number of Dodgers relievers are on track to hit free agency this coming offseason, and while prospects such as Chris Reed and Chris Withrow could contribute out of the bullpen by 2013, Colletti might prefer to open the season with more depth. Brandon League has said he'd like to return to Los Angeles, and Randy Choate also seems like a possible fit given his success as a lefty specialist. Though it's often difficult to endorse multiyear deals for relievers, I don't think the Dodgers should shy away from their preferred free agent arms. They aim to contend and they need relief help. Spending on relievers won't prevent them from addressing other needs, so why not?
It'd be hard for the Dodgers to keep adding stars at the rate they were making deals this past summer. In all likelihood they've already completed much of their shopping. This winter will probably be about supplementing the pitching staff and answering questions on the left side of the infield. Still, if we've learned anything about the Los Angeles ownership group it's that they aren't afraid to spend and surprise.
Photo courtesy of US Presswire.