The Dodgers announced that they have avoided arbitration with Clayton Kershaw, agreeing to terms on a two-year contract. The deal is worth $19MM, Dylan Hernandez of the LA Times tweets.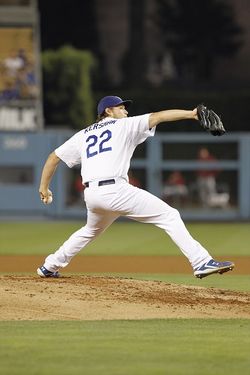 The contract buys out Kershaw's first two seasons of arbitration eligibility, but doesn't delay his free agency. He will be arbitration eligible for the final time following the 2013 season and eligible for free agency following the 2014 season. The left-handed Hendricks Sports client obtains a $500K signing bonus, $7.5MM in 2012 and $11MM in 2013, Hernandez tweets.
The Dodgers had submitted a $6MM offer via arbitration, and Kershaw (pictured) countered with $10MM ($3MM shy of the figure Tim Lincecum submitted as a first-time arbitration eligible player two offseasons ago). The Dodgers have now signed all of their arbitration eligible players for 2012, as MLBTR's Arbitration Tracker shows.
Kershaw won the 2011 NL Cy Young Award after putting together a phenomenal season. The 2006 first rounder posted a 2.28 ERA with 9.6 K/9 and 2.1 BB/9 in 233 1/3 innings, leading the National League in the traditional Triple Crown categories (wins, ERA and strikeouts). Roy Halladay was the lone NL pitcher to produce more WAR than Kershaw's 6.8 in 2011, according to FanGraphs.
Lincecum and the Giants and Cole Hamels and the Phillies also avoided arbitration with short-term extensions that covered early seasons of arbitration eligibility. Lincecum obtained $23MM for his first two seasons of arbitration eligibility, and Hamels obtained $11MM for the same chunk of his career (both Lincecum and Hamels were super two players; Kershaw is not a super two). The number to beat for first-time eligible starters going year to year still sits in the $4.35MM range (Dontrelle Willis and Jered Weaver).
Photo courtesy Icon SMI.