The Pirates will look to add offense and acquire pitching depth in the hopes of ending their streak of 20 consecutive losing seasons.
Guaranteed Contracts
Arbitration Eligible Players (estimated salaries)
Contract Options
Free Agents
There's no easy fix for the Pirates, who enter the offseason with many needs and limited resources. Yet there's some hope, even after consecutive late-season collapses, that 2013 will be the year the Pirates end their streak of 20 straight losing seasons. For the streak to end, GM Neal Huntington will have to pursue upgrades on the pitching staff and at multiple positions around the diamond.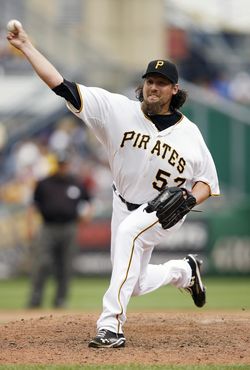 Pirates president Frank Coonelly has publicly expressed support for his team's front office executives. But the question persists: how long can upper management support the unconventional, military style player development methods which led to at least one injured prospect? Rival executives have said they consider these methods unacceptable and excessively risky.
The Pirates, who spent $52MM on payroll in 2012, have committed $28MM to next year's team with another $22MM or so projected to go to arbitration eligible players. Unless they unexpectedly increase payroll they aren't going to be signing elite free agents this coming winter.
The Pirates have lots of questions in their starting rotation in the short and long-term. A.J. Burnett and Wandy Rodriguez are in place atop the rotation for 2013, and James McDonald will be a welcome addition if he can replicate the form he showed in the first half of this past season. Beyond that there's Charlie Morton, who's recovering from Tommy John surgery, non-tender candidate Jeff Karstens, and a number of rookies. The Pirates have some intriguing young rotation candidates such as former first overall selection Gerrit Cole, but that's not necessarily enough to keep them in games for the duration of a six-month season.
Kevin Correia's not expected to re-sign in Pittsburgh after losing his rotation spot late in the regular season. The Pirates could explore free agency for potential bargains such as Ervin Santana, Bartolo Colon, Scott Feldman, Francisco Liriano, Chris Young and Kevin Millwood. Perhaps they can follow the template that landed them Burnett and Rodriguez and acquire Chris Capuano or Aaron Harang from the Dodgers with Los Angeles taking on some salary. Huntington has had success with this type of deal in the past and might look to replicate it this winter, with his club still in need of pitching.
The Pirates could obtain some starting pitching by trading their closer, Joel Hanrahan (pictured). The right-hander's salary projects to jump to the $7MM range, so it's time for Huntington to complete a trade. It doesn't make sense for the Pirates to allocate 15% of their budget to a reliever who pitches 4% of their innings. The Dodgers, Angels and Tigers are among the large market teams that could be seeking shutdown relievers this winter. Perhaps Huntington can move Hanrahan to one of those clubs while getting useful, controllable pieces in return.
A trade would prompt the Pirates to pursue relief help, especially since free agent right-hander Jason Grilli has a case for a multiyear deal, and could be priced out of Pittsburgh. Huntington has had past success finding effective relievers without overpaying for them. Grilli and Chris Resop, for example, were acquired for next to nothing. Replicating this success won't be easy, but it's one way for the Pirates to avoid spending $5MM per season on relievers. Whether it's a Rule 5 selection, a late-winter bargain or a waiver claim, the Pirates must seek affordable bullpen help.
The Pirates also have significant needs on offense after ranking 24th in runs scored among MLB's 30 teams. They're expected to seek a starting catcher at a time that a number of starting backstops are eligible for free agency. Mike Napoli's power would be a welcome addition to the Pirates' offense, so it makes sense to check in and see if a deal could work for both sides. However, top options such as Napoli and Russell Martin might not be affordable for the Pirates.
If that's the case they could simply seek a part-time backup for Michael McKenry, the 27-year-old who posted a .233/.320/.442 batting line in 275 plate appearances this past season. There's "zero chance" the Pirates will exercise Rod Barajas' option at $3.5MM according to Rob Biertempfel. Yet Barajas has said he'd be interested in re-signing at a lower figure, so that's a possibility (by the way, the team's other option, a $700K club option for Pedro Alvarez, will definitely be exercised).
Catcher was just one of the positions at which the Pirates struggled offensively in 2012. The team's first basemen (24th in OPS, .693), shortstops (26th in OPS, .604) and left fielders (28th in OPS, .635) were among the least productive in MLB at their respective positions. 
Garrett Jones figures to start at first base again after hitting 27 home runs and posting a .274/.317/.516 batting line in 2012. Jones struggles against left-handers, which means Gaby Sanchez, a noted lefty masher, could add value in a complementary role. For all of his offensive struggles, Clint Barmes remains a highly-regarded defender. The Pirates should explore trades for shortstops in case there's a deal to be had, but the trade value of shortstops who add value on offense and defense figures to be extremely high, especially when there's not a strong class of free agents.
The Pirates have an assortment of corner outfield options in Travis Snider, Alex Presley, Jose Tabata and Starling Marte. Unfortunately Tabata's coming off of a disappointing year, Snider and Presley have had trouble against lefties and Marte remains an unknown commodity at the MLB level. Adding a prominent outfielder via trade or free agency seems unlikely given the Pirates' needs and resources. Hopefully for manager Clint Hurdle two of these players emerge as capable regulars in 2013. The group includes some players who began their professional careers as highly ranked prospects, so the potential for breakout seasons seems to be there. 
As I suggested earlier, the Pirates have a relatively large arbitration class that includes some non-tender candidates. Karstens could be cut loose with a projected salary approaching $4MM. There also appears to be a chance that Morton and Sanchez will be non-tendered. The group includes at least one extension candidate in first time eligible second baseman Neil Walker. The Pirates would do well to lock Walker up if they can limit costs for his four arbitration years and obtain control of at least one free agent season.
Huntington has at least one more chance to end the Pirates streak of losing seasons. If the first four months of this past season are any indication, the Pirates might be able to do even better than .500 in 2013. First things first, though. The Pirates must use their limited resources to find pitching and improve their below average offense.
Photo courtesy of US Presswire.