The Reds announced that they've agreed to a two-year contract extension with manager Dusty Baker (Twitter link). Baker, whose previous contract expired at the end of the 2012 season, will be under contract through 2014 on his new deal.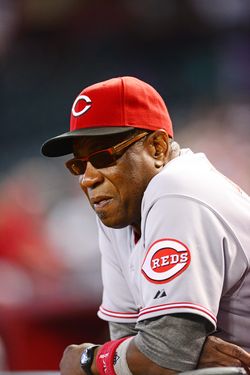 The Giants eliminated the Reds from the playoffs last week after a season that included 97 regular season wins and the NL Central title. Baker, who has managed the Reds since 2008, recently missed some time after suffering a mini-stroke. However, both sides have maintained interest in working out a new deal.
The Reds have won the NL Central twice since Baker was hired, and their overall winning percentage for the five year period is .517.  The 63-year-old earned $3.5MM per season on his first contract with Cincinnati. In 19 seasons managing the Giants, Cubs and Reds, Baker has a 1581-1432 record, one NL pennant and three Manager of the Year awards.
General manager Walt Jocketty has said the contract situations of the team's coaches will be addressed once Baker's situation is resolved.
Photo courtesy of US Presswire.