It didn't take long for Rick Hahn to make his first move as the general manager of the White Sox. Four days after officially introducing Hahn as GM, the team announced a two-year, $29MM contract extension with Jake Peavy. The deal will keep Peavy in Chicago through 2014 and includes an option for 2015.
"Jake Peavy showed again last season why he is capable of being one of the top pitchers in the American League," Hahn said in a statement released by the team.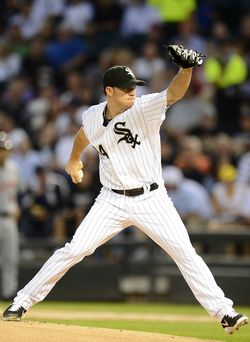 Peavy gets a $14.5MM salary in 2013 and 2014. The 2015 option becomes a player option if Peavy reaches innings thresholds in 2013 and 2014. Peavy's previous contract included a $22MM club option with a $4MM buyout. Peavy still receives the buyout, according to the team. It will be paid in equal installments from 2016-19.
Peavy, 31, started 32 games this past season — easily his best showing since he pitched for the Padres. In 219 innings Peavy posted a 3.37 ERA with 8.0 K/9 and 2.0 BB/9. He would have been one of the top starters available in free agency if the White Sox had declined his 2013 option without re-signing him.
This marks Rick Hahn's first major deal as Chicago's GM. CAA Sports represents Peavy, who was without representation as recently as a few weeks ago.
Photo courtesy of US Presswire.