The Orioles declined an $11.5MM club option on corner infielder Mark Reynolds at the end of October, and as we approach next week's non-tender deadline they have to make another decision on him.  With less than six years of big league service time, Reynolds remains under the team's control as an arbitration eligible player.  Matt Swartz's arbitration projections have Reynolds at $8.9MM for 2013 if tendered a contract, but that dollar range still might be too high for the O's.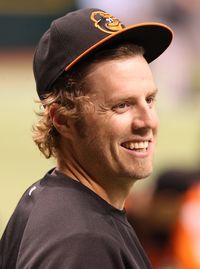 Speaking to Roch Kubatko of MASNSports.com after his option was declined, Reynolds expressed a desire to return to the Orioles in 2013.  Still, he intends to survey the marketplace if the Orioles decide to cut him loose a week from Friday.  Reynolds carries a poor reputation and UZR as a third baseman, but he seems to have settled in as a full-time first baseman this year.  It's probably fair to say he's become close to an average defensive first baseman.
That brings us to Reynolds' bat.  Clearly, the 29-year-old is a source of right-handed power.  He owns a .475 career slugging percentage and is generally good for 30 home runs over 600 plate appearances.  Reynolds also fans in about a third of his plate appearances, making him one of the game's foremost strikeout artists.  Overall, his bat is a positive, but the low .200s batting average and league-leading whiff total is hard to stomach.
A one-year, $9MM deal would be a reasonable commitment for Reynolds, in light of Carlos Pena receiving more than that two years ago from the Cubs.  Despite the recent acclaim, however, Reynolds does not carry the defensive reputation Pena did.  I expect the Orioles to go in a different direction at first base, allowing Reynolds to explore free agency.  He may receive some two-year offers, and as we saw with Melky Cabrera, sometimes a player decides a bird in the hand is worth two in the bush.  If Reynolds prefers a bigger risk and potential long-term reward, he can stick to a one-year deal with no option and hope to hit .250 with 35 home runs while continuing to improve his defensive reputation.  That type of season would allow him to cash in a year from now.  Teams such as the Mariners and Indians, who have been linked to Kevin Youkilis, could consider Reynolds as a backup plan at first base this offseason.
Photo courtesy of U.S. Presswire.