The Red Sox must pursue answers at multiple positions and address needs on their pitching staff this offseason, and they should have resources at their disposal.
Guaranteed Contracts
Arbitration Eligible Players (estimated salaries)
Jacoby Ellsbury, OF: $8.1MM (third time eligible)
Jarrod Saltalamacchia, C: $3.9MM (third time eligible)
Craig Breslow, RP: $2.4MM (third time eligible)
Ryan Sweeney, OF: $1.8MM (third time eligible)
Rich Hill, RP: $1.1MM (third time eligible, non-tender candidate)
Andrew Bailey, RP: $3.9MM (second time eligible)
Daniel Bard, RP: $1.6MM (second time eligible)
Andrew Miller, RP: $1.4MM (second time eligible)
Franklin Morales, RP: $1.4MM (second time eligible)
Alfredo Aceves, RP: $2.6MM (second time eligible, non-tender candidate)
Scott Atchison, RP: $800K (first time eligible, non-tender candidate)
Free Agents
Following a season that was at best forgettable and at worst embarrassing, the Red Sox have a number of major offseason needs. Ben Cherington will seek answers in the outfield, at first base and in the rotation in his second full offseason as Boston's GM. Ownership should be able to bid aggressively on free agents but whether the team will choose to do so remains an open question.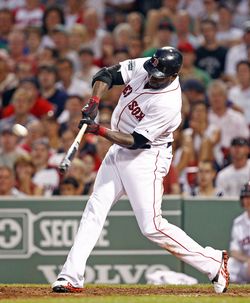 The Red Sox added a manager considerably sooner than they did a year ago, acquiring John Farrell from the Blue Jays in a deal that sent Mike Aviles to Toronto. They get a known commodity in Farrell, someone who has strong ties to the Red Sox and, now, experience managing at the MLB level. If Farrell can manage this team while limiting distractions, the Red Sox will be much better off than they were under Bobby Valentine.
Cherington has already addressed two other major needs, re-signing David Ortiz and signing David Ross. Not only was Ortiz the top designated hitter available in free agency, he's an icon in Boston. His two-year, $26MM contract seems reasonable for both sides.
Ross, Brian McCann's longtime backup in Atlanta, also obtained a two-year deal from the Red Sox. The 35-year-old should provide some offense in a reserve role. Now it's a question of who he'll be backing up. Jarrod Saltalamacchia appears to be a trade candidate with Ross and Ryan Lavarnway also on the 40-man roster. If the Red Sox listen to offers for Saltalamacchia, the Mets, Rangers, Astros and Mariners could express some interest. Otherwise, Lavarnway can simply start the 2013 season in the minor leagues — it's not as though he hit MLB pitching particularly well in 2012. 
It's possible the Red Sox will add another catcher, as they've maintained interest in free agent Mike Napoli since signing Ross. Napoli could also play first base and address another one of Boston's needs, so the club's interest might simply be a result of the relatively weak first base market. James Loney, now a free agent, was never regarded as a long-term answer at first base when the Red Sox acquired him from the Dodgers this past summer. The Red Sox must find another solution at a time that the free agent market for first basemen appears weak. Kevin Youkilis could return to play first, and the Red Sox also appear to have interest in Adam LaRoche. While Youkilis and LaRoche don't project as elite hitters for 2013 and beyond, they're the top options available at the position.
The Red Sox could also listen to trade offers for Jacoby Ellsbury, who's now just one year away from hitting free agency. The timing could be better for Boston. Center fielders Michael Bourn, Shane Victorino, B.J. Upton and Angel Pagan are available in free agency, which reduces Cherington's leverage in potential trade talks. Still, the Rangers have liked Ellsbury in the past and many others would express interest given Ellsbury's youth and MVP-caliber 2011 season. If the Red Sox keep Ellsbury, they could discuss the possibility of an extension. However, Scott Boras appears to believe his client should be paid like a premium player, even after a disappointing season that saw Ellsbury miss months with a shoulder injury.
Regardless of what happens with Ellsbury, the Red Sox will be pursuing outfielders this offseason. Cody Ross has hit free agency, and could be a fit in Boston going forward. He might not replicate his 2012 numbers, but he does hit well at Fenway Park. Ross has a case for a multiyear deal, and as long as he's commanding an annual salary worth less than $10MM, he's worth considering.
In case Ross signs elsewhere, the Red Sox will presumably check in on the likes of Nick Swisher and Victorino. Swisher's versatility would be a plus for the Red Sox given their opening at first base. Even Josh Hamilton, the top free agent position player of the offseason, should be a consideration. Hamilton could cost upwards of $20MM per season on a long-term deal, which will dissuade many owners. However, he's an elite talent who would undeniably make the Red Sox better in 2013. At this point it's still unclear whether the Red Sox will use their recently obtained payroll flexibility on top free agents, or take on payroll more gradually.
If the Red Sox prefer to rely on Daniel Nava and Ryan Sweeney as backups, they'll be pursuing multiple free agent outfielders. They'll want to consider impact trade candidates such as Shin-Soo Choo and Justin Upton in the coming months as well.
Though Jose Iglesias adds value on defense, it's not yet clear that he'll hit at the MLB level. Earlier this month Cherington told me the Red Sox are confident in the shortstop's ability to handle the bat. Still, the Red Sox are looking at alternative shortstops. Stephen Drew and Asdrubal Cabrera, two considerations for Boston, would both offer more certainty and offense than Iglesias.
Boston's needs don't end there, as the club has weaknesses to address on its pitching staff. The Red Sox figure to pursue starting pitching to be sure there's enough depth to get through a six month season. They appear to have interest in Anibal Sanchez, Hiroki Kuroda and Ryan Dempster. Any of those pitchers would be solid additions to a staff that ranked 12th in the American League with 5 runs allowed per game in 2012. Dan Haren, Joe Blanton and Jeremy Guthrie are among the other free agent starters Cherington could pursue to solidify his rotation.
Boston's projected bullpen could look considerably different in a couple of weeks, once the non-tender deadline passes. The club could let Hill, Aceves and Atchison go instead of tendering them contracts through the arbitration process. So far Jason Grilli, Joakim Soria and Kyuji Fujikawa have been linked to the Red Sox. Each of those pitchers would be an intriguing addition to the 2013 staff.
Other than Ellsbury, Boston's arbitration class doesn't include obvious extension candidates. It's possible the club could inquire about the possibility of locking Will Middlebrooks, but early career extensions are typically the domain of smaller market teams. While the Red Sox will discuss an extension with Dustin Pedroia at some point this winter, there's limited urgency with two years remaining on Pedroia's contract.
The 2013 Red Sox won't arrive in Spring Training with the expectations that have surrounded recent teams — after this past season the confidence of Red Sox Nation has faded. But there's talent on this roster and flexibility with respect to payroll, so Cherington could mold the Red Sox into a team capable of contending by Opening Day.
Photo courtesy of US Presswire.