The Marlins already completed one blockbuster trade, and they probably aren't done making moves yet.
Guaranteed Contracts
Arbitration Eligible Players (estimated salaries)
Free Agents
The current version of the Marlins doesn't look anything like the roster that generated so much excitement leading up to the 2012 season. Hanley Ramirez, Jose Reyes, Heath Bell, Josh Johnson, Mark Buehrle and manager Ozzie Guillen are gone, and it seems highly unlikely that their replacements will contend for a playoff berth next year.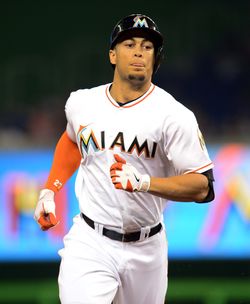 Last week's trade strips the Marlins of two quality starting pitchers, an All-Star shortstop and two others who belong on MLB rosters. No team could replace that assortment of talent easily. The Marlins lost 93 games even with those players, so they project as a poor team in the short term. That could change within a year or two, when some of the Marlins' prospects reach the MLB level along with some of the players obtained in the trade with Toronto. However, unless owner Jeffrey Loria decides to invest in the sustained on-field success of this club, it'll remain hard for Miami to contend consistently.
As presently configured, the Marlins project to have one of the lowest payrolls in the game just one year after raising payroll past the $100MM threshold. It means president of baseball operations Larry Beinfest and general manager Michael Hill probably won't have much financial flexibility in the coming winter. And if Loria indicates that he wants payroll to dip even further, then established players such as Ricky Nolasco and Yunel Escobar could be the next ones traded. 
The Marlins will apparently consider trade offers for Nolasco, Escobar and Logan Morrison this winter. Each player has trade value, though none of them had particularly strong seasons in 2012. Nolasco, who has one year remaining on his contract with Miami, could appeal to teams seeking rotation help such as the Angels, Yankees, Red Sox and Twins. 
Escobar, the Marlins' projected third baseman, would also generate interest on the trade market. The Diamondbacks, Athletics and Cardinals are among the teams that could be looking for help on left side of the infield this offseason. Escobar has a team friendly contract, and there's simply not much out there for teams seeking infield help.
If the Marlins trade Morrison this offseason, they'd definitely be selling low. The 25-year-old dealt with a knee injury this past season, and was limited to just 93 games. He hasn't yet qualified for arbitration, so he's affordable for now. In the event that the Marlins do listen to offers for Morrison, clubs like the Rays, Red Sox and Indians could check in.
As a consequence of the Marlins' recent trades, the second half of their lineup includes four inexperienced players. Projected starters Justin Ruggiano, Donovan Solano, Rob Brantly and Adeiny Hechavarria have combined for fewer than 1,100 career plate appearances. This isn't to say the Marlins need more experienced players, but they must establish contingency plans in case Hechavarria doesn't hit, or Ruggiano can't replicate his 2012 success.
By acquiring Juan Pierre, they obtained a useful, affordable player who just completed a strong season in Philadelphia. The addition of Pierre means the Marlins won't have to count on someone like Gorkys Hernandez for immediate production. That said, the signing won't prevent the Marlins from finding playing time for player in the process of breaking out.
The Marlins will need to add starting pitching this coming offseason. While Henderson Alvarez, Nathan Eovaldi and Jacob Turner all have promise, the Marlins should add some certainty to the rotation, especially if they move Nolasco. Otherwise, they'd be poorly positioned if one of the starting five experienced a setback. Even if the Marlins aren't going to spend on top tier free agents again, they could look to sign one or two starters like Kevin Correia, Aaron Cook, Jeff Francis, Freddy Garcia, Roberto Hernandez and Francisco Liriano. Miami could appeal to free agent pitchers looking to restore value on one-year deals, since the Marlins play in a pitcher-friendly park and in the National League. Beinfest might be able to take advantage of this and sign at least one intriguing free agent starter to a low-risk contract.
Though it's difficult to imagine the Marlins spending big on a free agent starter, it's even harder to imagine another Heath Bell-like free agent addition. The Marlins do need relief help since their bullpen, like most of their roster, includes lots of uncertainty. Even if the team limits itself to waiver claims, minor league deals and short-term free agent signings, it'll be possible to obtain a number of useful arms affordably.
The Marlins have just one arbitration eligible player, Ryan Webb. The reliever has a projected salary of less than $1MM, so this year's arb class will be as light as it gets for Miami.
Giancarlo Stanton narrowly missed qualifying for arbitration, which saves the Marlins millions in 2013. Still, they might want to sign him to a long-term deal given his status as one of the game's premier young players. Unfortunately for Marlins fans, Stanton has expressed frustration with the team's decision making, an indication that he could be reluctant to commit to the organization long-term. That said, the Marlins could give him tens of millions of reasons to reconsider. The Marlins, who don't give out no-trade clauses, could theoretically increase Stanton's trade value by extending him to a reasonable long-term contract.
With the hiring of manager Mike Redmond, the Marlins addressed one of their most significant offseason needs. The former catcher has a formidable task. He'll be working with a relatively young roster and under the notoriously fickle Loria.
The Marlins probably won't be a good team in 2013. In fact their offseason moves so far suggest that winning in 2013 isn't the organization's top priority. Still, they can stay somewhat competitive by supplementing their young talent with some depth moves for affordable players.
Photo courtesy of US Presswire.