The Phillies must acquire at least one outfielder and pursue upgrades at third base.
Guaranteed Contracts
Arbitration Eligible Players (estimated salaries)
Contract Options
Free Agents
The Phillies are in unfamiliar territory this offseason. Their streak of consecutive division titles has ended at five, and the Nationals and Braves are now the teams to beat in the NL East. GM Ruben Amaro Jr. will pursue outfielders and third basemen this offseason, as the Phillies attempt to re-establish themselves as one of the premier teams in the National League.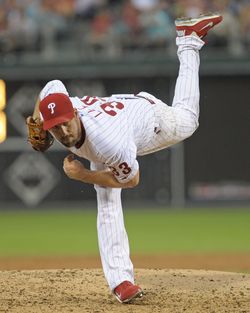 Just a few months after trading Shane Victorino and Hunter Pence the Phillies need outfielders. Fortunately for Amaro, the free agent market features a strong class of outfielders this offseason. The Phillies should have the resources to bid for top free agents after spending approximately $170MM on payroll in both of the past two seasons.
No free agent matches Josh Hamilton in terms of potential impact. The Phillies could be a fit the free agent outfielder, and we know Amaro likes to make splashes — sometimes unexpected ones. That doesn't always mean bidding on the top free agent available, however. Former Phillies outfielder Michael Bourn could be a target, and so could free agents such as Angel Pagan and B.J. Upton.
Alternatively, the Phillies could rely on John Mayberry in center field and pursue a corner outfielder such as Melky Cabrera or Nick Swisher. They have internal outfield options in Mayberry, Domonic Brown and Darin Ruf, but that's probably not enough certainty for a team that sees itself as a contender.
If the Phillies look to the trade market for outfield depth, they could pursue players such as Shin-Soo Choo, Denard Span, Josh Willingham, Coco Crisp, Justin Upton, Peter Bourjos and Jacoby Ellsbury. They have lots of options given the outfield depth in the upcoming free agent class and their ability to take on payroll.
Upgrading at third base won't be as easy. The Phillies declined their $5.5MM club option for Placido Polanco and will instead outside of the organization for help at the hot corner (no, Chase Utley won't shift over to third). There's not much available in free agency, with Kevin Youkilis leading an unremarkable free agent class. 
Some intriguing trade options could emerge at third base. Chase Headley and David Wright are now viewed as extension candidates following tremendous seasons. If contract talks don't go as planned and one of these players becomes available, the Phillies should attempt to strike a deal. Acquiring Wright would presumably be extremely difficult since he plays in the Phillies' division. The Phillies do have some internal options at third in Freddy Galvis and Kevin Frandsen.
Cliff Lee drew trade interest this past summer despite a contract that calls for annual salaries of $25MM through 2015. If the Phillies determine that they're getting to close to the MLB luxury tax, they could trade Lee and clear payroll. The Dodgers and Rangers are two of the many teams that would presumably have some interest in the left-hander. Still, the Phillies would have to get an impact player to justify trading Lee, who who has pitched at least 210 innings in every one of the past five seasons without posting an ERA over 3.25.
The Phillies exercised Carlos Ruiz's option immediately after the season, while declining the options for Polanco, Ty Wigginton and Jose Contreras. Free agents Brian Schneider and Juan Pierre are also expected to depart (obviously without the qualifying offers that would set the Phillies up for draft pick compensation).
The Phillies have a small arbitration class featuring just three players. It won't be surprising if all three — Frandsen, Nate Schierholtz and Antonio Bastardo — are tendered contracts, though none are considered extension candidates. There's a chance Schierholtz will be non-tendered. The Phillies could consider an extension for Ruiz, who will be eligible for free agency a year from now. Even though he's 33, adding one or two years to his existing contract could make sense given his offensive skills.
Amaro has said he regrets not doing more to bolster the bullpen last offseason. While Philadelphia's relievers pitched better in the second half, they're expected to pursue a setup reliever this winter. Perhaps a free agent such as Jason Grilli, Mike Adams or Koji Uehara will join the Phillies in the next couple of months.
If the Phillies obtain outfield help and address third base while adding to the bullpen, they'll have had a successful offseason. Still, the Phillies will enter the 2013 season with questions about the health of prominent players such as Utley and Halladay. This team's hopes of contending in 2013 seem legitimate, but the Phillies are no longer the force they once were.
Photo courtesy of US Presswire.