The Rockies added a late-inning reliever today, acquiring Wilton Lopez and a player to be named later or cash from the Astros for starter Alex White and minor leaguer Alex Gillingham, the teams announced.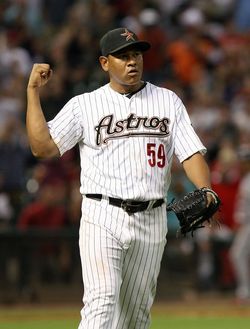 Lopez, 29, very nearly joined the Phillies last month before they called the trade off, perhaps over health concerns.  The Rockies are comfortable with Lopez's health, explained director of baseball operations Bill Geivett to Troy E. Renck of the Denver Post. The arbitration eligible righty posted a 2.17 ERA, 7.3 K/9, 1.1 BB/9, 0.54 HR/9, and 55% groundball rate in 66 1/3 innings this year and was projected to close for the Astros in 2013.  Lopez will be under the Rockies' control through 2015; he joins Rafael Betancourt, Rex Brothers, and Matt Belisle at the back end of Colorado's bullpen.  
Astros GM Jeff Luhnow has not been afraid to trade his best relievers, which paid off a year ago when he acquired Jed Lowrie from Boston in the Mark Melancon trade.  White, 24, spent most of his big league time this year in the Rockies' rotation.  He struggled, posting a 5.51 ERA, 5.9 K/9, 4.7 BB/9, 1.19 HR/9, and 54.1% groundball rate in 98 innings.  He pitched another 60 2/3 innings at Triple-A.  White, who was drafted 15th overall in 2009, joined the Rockies in July 2011 as part of the Ubaldo Jimenez deal with Cleveland.  Prior to that season, Baseball America said White had the potential to become a number three starter or better.  Gillingham, 23, posted a 3.66 ERA, 6.1 K/9, 2.0 BB/9, and 0.4 HR/9 in A ball this year. 
Troy E. Renck of the Denver Post first reported the deal was close.  Photo courtesy of U.S. Presswire.