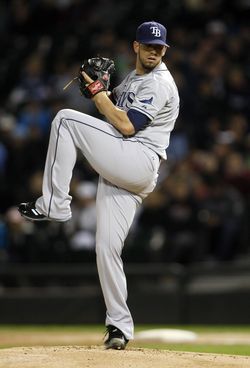 The Royals have bolstered their starting rotation for 2013 thanks to the addition of two quality pitchers. Kansas City has agreed to acquire right-hander James Shields, right-hander Wade Davis and a player to be named or cash from Tampa Bay in exchange for outfielder Wil Myers, right-hander Jake Odorizzi, left-hander Mike Montgomery and third baseman Patrick Leonard, according to a team release.
Kansas City's continued commitment to acquiring veteran pitching talent as seen with Shields and Davis has the Royals with their eyes on competing as soon as 2013. Shields, soon to turn 31, brings a career 87-73 record and 3.89 ERA to the Midwest after finishing third in the AL Cy Young vote for the 2011 season. Beyond his stats, Shields brings leadership to the Royals clubhouse after mentoring young pitchers in Tampa Bay. Davis, 27 and fresh off his first season in the bullpen, enjoyed success with the Rays in 2012. With an ERA of 2.43 and his strikeout total of 87, Davis' combination for a reliever could only be matched by Angels right-hander Ernesto Frieri. As a starter, Davis has posted a 4.22 ERA in 64 starts. 
Jon Morosi of FOXSports.com reports that the organization will have Shields under team control through the 2014 season ('14 as a team option) and Davis potentially remaining blue and white through 2017 (with '16 and '17 as team options) (via Twitter). The duo will join a starting rotation already home to Jeremy Guthrie, Ervin Santana, Bruce Chen and Luke Hochevar.
For the Rays, blessed with more than enough pitching to continue to call their rotation an asset, the addition of Myers provides Tampa Bay with another building block to complement their star player in Evan Longoria. Myers, who turns 22 on Monday, enters the 2013 season as the reigning 2012 Baseball America Minor League Player of the Year after hitting .304/.378/.554 in 99 games this season at Triple-A Omaha.
Beyond Myers, the Rays also acquired three prospects from the Royals who all check in at 23 years old or younger. Odorizzi, arguably the most talented of the bunch, took home his team's Pitcher of the Year award this past season while playing with Myers. The right-hander pitched to a 2.93 ERA with 7.4 K/9 and 3.4 BB/9 over the course of 107.1 innings. He made his Major League debut in September where he had the opportunity to make two starts for the Royals.
Marc Topkin of the Tampa Bay Times first broke the details of the trade (via Twitter). Photo courtesy of US Presswire.