The Blue Jays didn't set out to trade for Jose Reyes this winter. Instead, they targeted rotation upgrades to recover from a disappointing 89-loss season. Meanwhile, Reyes expected to remain with the Marlins, even after hype gave way to hopelessness in Miami toward the end of the 2012 campaign. Now, as Spring Training approaches, Reyes is officially Toronto's shortstop and there's an expectation from both sides that the 2013 season will live up to high preseason expectations.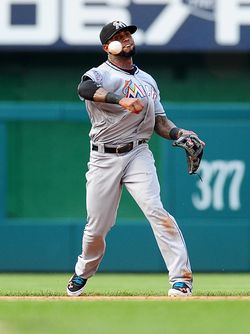 The Blue Jays look at Reyes as a dynamic shortstop who can help them reach the postseason for the first time in 20 years. His skillset rarely becomes available in the view of general manager Alex Anthopoulos.
"I don't know that we're going to see another shortstop like this in Toronto for a long time," the GM said at Reyes' introductory press conference at Toronto's Rogers Centre this afternoon. "I don't know that we could ever think we're going to draft someone like this or sign someone like this out of Latin America. This is one of the great players to play the game."
Reyes sounds equally optimistic about his new team. He thought he'd be staying in Miami despite a 69-93 season that cost manager Ozzie Guillen his job. So earlier in the offseason when he and his wife were vacationing he wasn't expecting to pick up his phone and learn he'd been traded.
"It surprised me a little bit," Reyes said, "but after that I said 'you know what, with what the Blue Jays have it's all about winning and on the field it's going to be good,' so I can't wait."
Judging by Anthopoulos' comments, the Blue Jays are also eager to get started. The GM described himself as a longtime admirer of Reyes, citing the 29-year-old's energy and multi-faceted game as reasons for his interest. Plus, Reyes provides Toronto with a traditional leadoff hitter, something that Anthopoulos suggested is becoming increasingly rare in today's game. It's clear that the GM believes there's a lot to like about Reyes.
"He's probably one of my favorite players in the league to watch," Anthopoulos said. "He's the type of guy you want to watch play. He's electric. High energy, smile on his face, just so many things. This is a rare guy to find. Leadoff, shortstop, energy, makeup — check off every single box."
Last offseason, when Reyes hit free agency, the Blue Jays weren't involved in the bidding for the client of the Legacy Agency. At the time they believed that they had ample shortstop depth in Yunel Escobar and Adeiny Hechavarria. One year later, Anthopoulos was prepared to trade both Cuban shortstops to Miami in the blockbuster trade that brought Reyes to Toronto. 
"We felt we were pretty deep at shortstop, but we've never seen a guy like this," Anthopoulos said of Reyes. "It's a rare opportunity to get a player like this and we wanted to make sure we were able to get it done."
Interestingly, Reyes wasn't the one the Blue Jays initially targeted. Anthopoulos started talks with the Marlins by asking about Josh Johnson, following up on an inquiry he'd made during the summer of 2012. Talks progressed from there and Toronto ultimately landed Reyes and the remainder of his six-year, $106MM contract. The Marlins faced considerable criticism for moving the contracts of Reyes, Johnson and Mark Buehrle, among others. Yet their former shortstop says trades are part of the game, even when they occur one year into a long-term commitment. Few players get to spend their entire career with one team.
"You have to understand that doesn't happen sometimes, because this is a business," Reyes said. "As a player we need to understand that."
After last year, Reyes understands more than just the business side of baseball. He has seen firsthand that preseason excitement doesn't necessarily translate into wins on the field. Like this year's Blue Jays club, last year's Marlins were tabbed by many as a breakout team. The Marlins never emerged as a postseason threat, and Reyes says he learned from the experience.
"No matter what people say — a lot of people said 'they're going to win it all' — it's not about what people say." Reyes said. "I don't think that's going to happen here."
Photo courtesy of USA Today Sports Images.