10:52pm: If Liriano's option year vests at $5MM or $6MM, he can earn the difference between that and the full $8MM based on games started in 2014, Jon Heyman of CBSSports.com tweets.
10:13pm: The Pirates confirmed the signing via press release.  Liriano will be guaranteed just $1MM in 2013 and can earn up to $4.75MM through incentives in 2013 based on time spent on the DL due to his right arm injury, a source tells Bill Brink of the Pittsburgh Post-Gazette (on Twitter).  The left-hander can still make the original $12.75MM, however, if he stays healthy and has his option vest at $8MM (Twitter link).  That option's value could be worth just $5MM or $6MM based on missed time.
12:27pm: Long after initially agreeing to terms, the Pirates have finalized their two-year agreement with free agent left-hander Francisco Liriano. Liriano passed his physical and his deal with the Pirates is now official, Ken Rosenthal of FOX Sports reports (on Twitter). 
The deal now includes language that protects the Pirates in case Liriano misses time due to an injury to his non-throwing arm, Rosenthal reports. Liriano will still earn $12.75MM if he misses no time due to the right arm injury, but his 2013 salary would be reduced if he does miss time because of the injury, which occurred last month.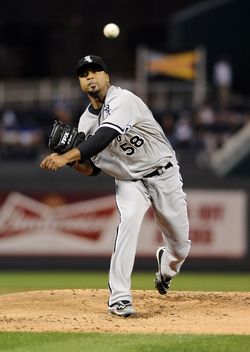 Liriano, a client of the Legacy Agency, pitched for the Twins and White Sox this past season. He posted a 5.34 ERA with 9.6 K/9, 5.0 BB/9 and a 43.8% ground ball rate in 156 2/3 innings. It marked the second consecutive season that Liriano pitched to an ERA above 5.00 while walking 5.0 batters per nine innings. His last standout season came in 2010, when he posted a 3.62 ERA with 9.4 K/9 and 2.7 BB/9, generating some Cy Young votes.
However, as a hard-throwing 29-year-old left-hander (his fastball averaged 93 mph in 2012) with a history of success at the MLB level, Liriano was definitely going to draw interest as a free agent. The Mets and Twins were also linked to him this offseason.
As MLBTR's Free Agent Tracker shows, Liriano's contract resembles recent deals signed by free agents Hisashi Iwakuma ($14MM for two years), Joe Blanton ($15MM for two years) and Brandon McCarthy ($15.5MM for two years).
Liriano joins A.J. Burnett, Wandy Rodriguez and James McDonald in Pittsburgh's rotation. It's unclear whether GM Neal Huntington will continue seeking pitching depth at this stage in the offseason.
Liriano ranked 28th on MLBTR's list of top 50 free agents. Kyle Lohse remains the top free agent starter available.
Photo courtesy of USA Today Sports Images. Mike Axisa and Zach Links contributed to this post. La Velle E. Neal III of the Minneapolis Star-Tribune first reported the agreement, Jon Heyman of CBSSports.com first reported its value, and Rob Biertempfel of the Pittsburgh Tribune-Review first reported the right arm injury.