Pitchers and catchers are due to report this weekend for some teams, yet two of MLBTR's top ten free agents remain unsigned in Michael Bourn and Kyle Lohse.  Part of the delay is owed to the master of slow-playing free agency, Scott Boras.  However, another major factor for both players is that they received and turned down qualifying offers in November.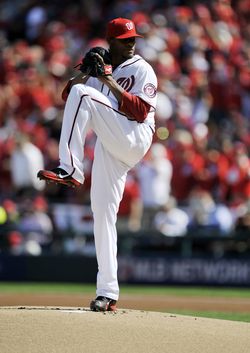 Under baseball's new collective bargaining agreement, teams had the ability to tender their free agents a guaranteed one-year "qualifying offer" that is equal to the average salary of the 125 highest-paid players from the most recently completed season.  For the 2012-13 offseason, that amount was $13.3MM.  Only nine players were deemed worthy of such offers by their teams: Bourn, Lohse, Josh Hamilton, Hiroki Kuroda, Adam LaRoche, David Ortiz, Rafael Soriano, Nick Swisher, and B.J. Upton.  All nine players turned down the offer in search of more lucrative contracts.
Any team signing one of these nine free agents, outside of their own, was required to forfeit its highest available draft pick, with the first ten picks protected.  Kuroda and Ortiz avoided the issue by re-signing quickly in November, and while LaRoche eventually re-signed with the Nationals in January, draft pick compensation did seem to affect his market.  Swisher and Soriano ultimately signed smaller-than-expected contracts as well.  Higher-caliber players such as Hamilton and Upton seemed unaffected.
Many of our top 20 free agents were able to avoid qualifying offers.  Zack Greinke, Anibal Sanchez, Shane Victorino and Ryan Dempster skirted the issue by virtue of midseason trades, which make a player ineligible to receive a qualifying offer.  In a January radio interview with Tim McKernan, Jim Hayes, and Doug Vaughn of The Morning After, Lohse referred to this as a "get out of jail free card" for Greinke and Sanchez.
Other top 20 free agents, such as Edwin Jackson, Angel Pagan, Mike Napoli, and Torii Hunter, simply didn't receive qualifying offers from their former teams.  Jackson ultimately signed the largest contract of these players, a $52MM pact with the Cubs that basically guarantees him a qualifying offer-type salary over four seasons.  The Nationals, who stood to receive a draft pick in the supplemental first round had Jackson declined a qualifying offer to sign elsewhere, elected to move on instead.  Jackson's agent, Greg Genske of The Legacy Agency, preferred not to speculate on the Nationals' decision, but told MLBTR, "We were delighted to see that they didn't offer him a qualifying offer, because we know this: it's certainly not going to hurt him to not have the draft pick compensation attached to him."  The Cubs ran parallel pursuits of Jackson and Sanchez, and it's no coincidence the rebuilding team zeroed in on pitchers who would not require the forfeiture of their second round draft pick.
If signing a free agent does require the forfeiture of a first or second round draft pick, how much does it matter to potential suitors?  It's team-specific, explained Genske, who said, "I think that most of the teams that are in on the top-tier free agents are really focused on winning now.  So I think they're less inclined to be concerned about that draft pick and even the bonus pool money associated with it."  In Victorino, Dempster, and Napoli, the Red Sox signed three top 20 free agents who did not come with draft pick compensation attached.  GM Ben Cherington explained to MLBTR, "We have to consider the cost of giving up a pick, as draft picks are valuable, and so it's part of the acquisition cost for a free agent attached to a draft pick. But there are cases we will consider giving up a pick for the right player. This offseason many of our targets didn't require that, but it was a secondary benefit, not the driving factor in our pursuit."  One NL exec I spoke to seemed less concerned about potentially losing a draft pick, saying, "If we really want the player and feel he can make the difference for us in having a championship club – or building toward a championship club – it's not a significant factor.  Look, we all like picks and prospects, but even among the top 50 prospects in the game more than half of them never make it."
Lohse, our tenth-ranked free agent, clearly feels draft pick compensation dragged down his market, telling McKernan, Hayes, and Vaughn, "Losing the pick, it's obviously kind of a big deal for teams, but they also lose about 30% of the money they can spend on the draft, so that definitely handcuffs them when it comes to signing other people."  Lohse hit on one major difference between losing a draft pick now versus under the old CBA: the team also loses the MLB-allotted slot money associated with that pick.  And unlike previous offseasons, a team can't go over slot elsewhere in the draft to make up for a lost pick.
What can an agent do to avoid Lohse's plight?  Perhaps agents will push impending free agents to be more open to waiving their no-trade clauses midseason, in hopes of snagging that "get out of jail free" card.  One strategy, allowed under the old CBA, was to negotiate a clause into a free agent contract that stipulated the team could not offer arbitration after the season.  This type of agreement is outlawed in the new CBA "whether implied or explicit, either orally or in writing," with potentially steep penalties.  A bold agent could legally sidestep draft pick compensation in one way: convince the client to sit out the first two months of the season and sign after the June draft.  Otherwise, the agent is left to explore the unlikely scenario of a sign-and-trade loophole.  It should also be noted that the Mets are currently lobbying MLB for an exception that would lessen the blow for teams with bottom-ten records whose first-round draft pick was pushed out of the protected top ten.
Lohse admitted he's biased, but wondered in the interview if "the rules could use a little tweaking [to] figure out a way to make it a little more fair."  The NL exec with whom I spoke doesn't find the current system unfair, noting that "the great thing about qualifying offers was that only elite players received them."  Cherington also feels we're better off now, telling MLBTR, "I think the new rules are more equitable..it's less likely that a player's market will be affected by being attached to a pick. The intent is to provide some compensation to teams who lose the most impactful free agents to free agency particularly those who a team has invested in over time."  Genske feels the same from the agency side, telling me, "You take a lot of the people out of the [draft pick compensation] system altogether, which is helpful for players, and you've limited some of the arbitrary nature as as to what the compensation is going to be for a particular free agent."
The bottom line: the new draft pick compensation system is superior, but a qualifying offer is a major drag on the leverage of good-but-not-great free agents.  For such players, perhaps teams that place a lower value on draft picks will become the most coveted destinations, so that qualifying offers can be avoided.
Photo courtesy of USA Today Sports Images.