The Diamondbacks have confirmed the extension of first baseman Paul Goldschmidt via a team press release.  The five-year, $32MM extension was but the third-largest agreed to yesterday, as it was eclipsed later in the day by the massive extensions for Buster Posey and Justin Verlander.  Goldschmidt is now under contract with the Diamondbacks through 2018.  The SFX client's deal includes a team option for 2019 that could be worth $14.5MM and boost the overall value of the pact to $46.5MM.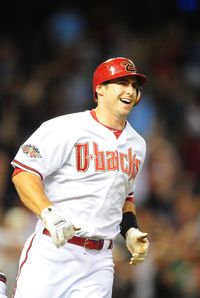 Goldschmidt wasn't scheduled for arbitration eligibility until after the '14 season and wouldn't have been able to hit free agency until after the 2017 season.  The deal buys out Goldschmidt's pre-arbitration years, arbitration years, and at least one of his free agency years.  The long-term deal comes as something of a surprise since we recently heard that the first baseman rebuffed Kevin Towers' attempt to start talks.
The 25-year-old has been impressive thus far in his young career, hitting .286/.359/.490 in 2012 with 20 homers and 18 stolen bases in 21 attempts across the last two seasons.  Goldschmidt's case is a unique one because as MLBTR's Extension Tracker shows, no first basemen have signed long-term deals with between one and two years of service time.  However, several hitters have done so, including Goldschmidt's former teammate Chris Young.
This marks the fifth extension issued by Towers and the D'Backs this offseason.  Before this, Arizona worked out deals with Aaron Hill (three years, $35MM), Martin Prado (four years, $40MM), Cliff Pennington (two years, $5MM), and J.J. Putz (one year, $7MM).
Jim Bowden of ESPN.com (on Twitter) first reported the agreement.  Terms were provided by Ken Rosenthal of FOX Sports (Twitter links).  Nick Piecoro of the Arizona Republic tweeted additional contract details.  Photo courtesy of USA Today Sports Images.