The Pirates were far from the most active team in baseball this winter, but they did make a few significant moves.
Major League Signings
Francisco Liriano, SP: one year, $1MM. $8MM Vesting option for 2014.
Jeff Karstens, P: one year, $2.5MM. 
Jason Grilli, RP: two years, $6.75MM.
Russell Martin, C: two years, $17MM.
Pedro Alvarez, 3B: one year, $700K. Club option exercised.
Total Spend: $27.95MM.
Notable Minor League Signings
Trades and Claims
Notable Losses
Needs Addressed
Last season, Rod Barajas started 98 games behind the plate for the Pirates, hitting .206/.283/.343 and posting his worst OPS in nearly a decade.  His defensive play wasn't particularly strong either and one has to assume that Pittsburgh didn't spend too much time deliberating over his $3.5MM option for 2013.  Instead, the Bucs got a significant upgrade behind the plate in Russell Martin.  Martin's two-year, $17MM deal is the largest free agent contract signed during GM Neal Huntington's tenure in Pittsburgh and the Pirates expect to get their money's worth out of the three-time All-Star.  Two years ago, the Dodgers non-tendered Martin after an underwhelming couple of years and replaced him with the cheaper Barajas.  Since then, the 30-year-old has gotten back on track with the Yankees, posting a .224/.317/.405 slash line with 39 homers across two seasons.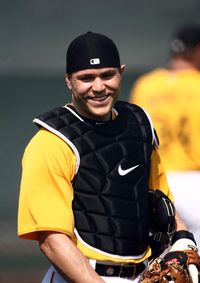 It took a while to get everything hammered out but the Pirates ultimately inked Francisco Liriano to help fortify the rotation.  The two sides originally agreed to a two-year deal in mid-December, but the Pirates backed out after Liriano broke his non-pitching arm at his home in the Dominican Republic.  Everything finally got wrapped up in February, with language in the new deal that protects the team in case Liriano's arm puts him on the DL again.  
The Pirates are highly unlikely to get the 2006 version of the left-hander, but they'll be doing cartwheels if Liriano can give them something in the neighborhood of his 2010 campaign.  Liriano posted a 3.62 ERA with 9.4 K/9 and 2.7 BB/9 in that season, but it's the only year out of the last four that he's had a sub-5.00 ERA.  Thanks to the arm injury, Liriano's season won't get underway until May.
The club's other needs were taken care of with more affordable contracts.  The Pirates signed Jonathan Sanchez to a minor league deal in February and he's now penciled in as the club's No. 4 starter due to Gerrit Cole being in Triple-A, Liriano's aforementioned injury, and Jeff Karstens' shoulder issues.  Huntington also added some name players on non-guaranteed deals, including Brandon Inge, who will break camp with the club.  Inge, 36 in May, can provide support off the bench for Pedro Alvarez at third and overall infield depth.
Questions Remaining
If all of the Pirates starters were healthy, they'd be entering the 2013 season with a rotation of A.J. Burnett, Wandy Rodriguez, James McDonald, Karstens, and Liriano.  However, the back of the rotation will instead feature Sanchez (8.07 ERA with 6.3 K/9 and 7.4 BB/9 in 2012) and Kyle McPherson/Jeff Locke in the No. 5 spot.  Burnett and Rodriguez are both solid, but the rest of the rotation will be chock full of question marks until the summer when they're back at full strength.  They could use some reinforcements to help tide them over and they're keeping a close eye on the Dodgers' Chris Capuano as the season nears.
The PIrates were a lackluster defensive team in 2012 and were ranked in the lower-third of the majors.  Substituting Barajas' arm with Martin's (24% of runners caught stealing vs. 6%) should help keep everyone honest but they'll need more improvement than that to make signficant strides.
Deal of Note
The Pirates have a great deal of confidence in Jason Grilli so it only made sense for them to flip Joel Hanrahan to the Red Sox in December.  The swap allowed Pittsburgh to deal from an area of strength and add first baseman/outfielder Jerry Sands, infielder Ivan De Jesus Jr., reliever Mark Melancon, and right-hander Stolmy Pimentel to the organization.  Sands, who was a prized prospect in the Dodgers system before being shipped to Boston in the blockbuster deal, has impressive power and the PIrates obviously believe that the 25-year-old has a high ceiling.
Over the last two years with the PIrates, Grilli has looked like a brand new pitcher, posting a 2.76 ERA with 12.5 K/9 and 3.6 BB/9.  The 36-year-old was one of the better available relievers this winter and figures to slot in nicely as the Bucs' closer.  Unlike other closing options, Grilli didn't require a three-year pact and his two-year, $6.75MM deal amounts to less than Hanrahan will earn in 2013 alone.  However, it's worth noting that Grilli has limited experience in the role, finishing just 15 games across the last two seasons.  
Overview
The Pirates certainly have promise for the future with the likes of Cole, Jameson Taillon, Alen Hanson, Gregory Polanco, and Luis Heredia in the fold.  However, the 2013 Bucs don't appear to be world beaters.  However, they do have the talent to win 82 games and snap their 20 year losing streak.  After all, they came just three games shy of hitting that mark even after their late season collapse in 2012.
Manager Clint Hurdle believes that his club has improved across the board, even if most of that improvement comes in the way of the younger players having another year of experience under their belt.  It's hard to see the Pirates finding their way into the playoffs, but they can certainly crack the .500 mark.
Photo courtesy of USA Today Sports Images.