Few pitchers have dominated the opposition for a four-year period the way Randy Johnson did from 1999-2002. He averaged 258 innings, 354 strikeouts and 20 wins per season. He posted a cumulative ERA of 2.48 at a time that offensive numbers were peaking (187 ERA+). He won four Cy Young Awards in as many years.
Johnson accomplished this in a Diamondbacks uniform, helping the franchise capture its first World Series championship in 2001. But as agent Barry Meister recently explained to MLB Trade Rumors, the left-hander could just as easily have ended up in Texas or Los Angeles if Diamondbacks owner Jerry Colangelo hadn't made Johnson and his family a franchise-altering pitch.
When Johnson hit free agency following the 1998 season, he was sure to draw interest. The 6'10" left-hander posted a 3.28 ERA with 329 strikeouts in 244 1/3 innings in his walk year. Plus, his performance improved dramatically in the second half after the Mariners traded him to the Astros.
As expected, many teams expressed some level of interest in Johnson once the World Series ended. Meister recalls that it soon became clear that five clubs were much more serious than the rest: the Rangers, Astros, Angels, Dodgers and Diamondbacks.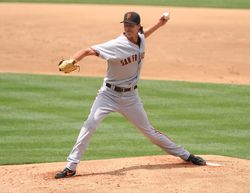 "The actual odyssey of Randy getting to Arizona was fascinating," Meister said in a recent conversation with MLBTR. "You've got five highly motivated clubs with significant resources, five owners who all want to win and who feel like this is the piece to the puzzle. It was a highly charged time."
Above all else Johnson wanted the chance to play for a contending West Coast team. Both Texas teams and both Los Angeles area teams seemed poised to contend, but the expansion Diamondbacks had finished 65-97 in their inaugural 1998 season and weren't viewed as a playoff threat. 
"All five clubs had a completely different approach," said Meister, who represented Johnson along with agent Alan Nero at the time.
Johnson, who had just turned 35, was not positioned to obtain a long-term deal at his age. Kevin Brown, also a free agent during the 1998-99 offseason, had a better chance at signing a lengthy deal and ultimately became baseball's first $100MM pitcher the same month Johnson signed.
"We knew we weren't going to get the same number of years because Randy at this point was already in his mid-thirties," Meister said, noting that Johnson pitched until he was 46. But even at the age of 35 Johnson generated intense interest from around MLB.
The Bidders
Colangelo, the longtime longtime Diamondbacks and Phoenix Suns executive, proved to be a persuasive advocate for Arizona. He told Johnson multiple times that the Diamondbacks could win a championship if he signed with them. Johnson also liked also liked manager Bob Brenly and general manager Joe Garagiola Jr., which didn't hurt. Nevertheless, signing elite free agents requires more than a friendly face or two.
Astros owner Drayton McLane, Johnson's most recent employer, flew to Arizona, where Johnson and his family lived. Johnson had just posted a 1.28 ERA down the stretch for the Astros, winning ten of his 11 starts. Naturally, the owner wanted to re-sign the star left-hander. Meister recalls McLane saying that he would have "crawled on broken glass across the desert" to get Johnson's name on a contract. Grand declarations aside, the Astros entered the sweepstakes as a longshot.
Not to be outdone, Rangers owner Tom Hicks sent a 727 to fly Johnson to Texas. It was an impressive show that concluded with a four-year, $48MM offer, yet Johnson preferred cities closer to the West Coast.
He had attended USC before beginning his professional playing career, which meant Los Angeles was familiar territory. Then, as now, the Dodgers had deeper pockets than other teams. They reached out to Johnson with Tommy Lasorda and Eric Karros, expressing serious interest before demonstrating that they were ready to spend big. The Dodgers told Meister and Nero that if they asked for a reasonable number they'd find the money for Johnson. "They were ready to throw money at the issue," Meister said. The Dodgers seemed prepared to spend $60MM for four years and maybe even $75-90MM for five or six years — massive sums at the time.
"We said 'Randy you'll get whatever you want from these guys,'" Meister recalls.
The Disney-owned Angels said they had enough payroll to sign Mo Vaughn, Kevin Brown and Johnson. Other than that, however, they weren't saying the right things early on. Johnson would attend a Mighty Ducks NHL game and meet star right wing Teemu Selanne and Michael Eisner, the CEO of Disney himself. Early on, Meister recalls, the Dodgers and Angels were the frontrunners for Johnson.
Johnson's Decision
After hearing the five teams make their respective pitches, Johnson's camp informed the Rangers and Astros that they had been ruled out. The Angels started to look unlikely, too. After signing Mo Vaughn, Angels personnel said they'd want to sign Johnson for a deal including deferred money, which made their offer less appealing. With that, Johnson, Meister and Nero informed the Angels that they were out and that Johnson would sign with the Dodgers or the Diamondbacks.
Soon afterwards, Colangelo visited Johnson's family in Phoenix to make his case for the final time. He repeated his promise that the Diamondbacks would win with Johnson and outlined his plan a second time. Meister remembers Colangelo as impressively honest and straightforward. 
His offer was competitive, too. Though the Diamondbacks had limited payroll flexibility, they told Johnson he could have whatever perks he wanted. This appealed to Johnson and his representatives.
"When he leaves we're stunned," Meister said. "It's the most impressive, honest, giving presentation we've ever had. It just blows us away."
Colangelo had outlined a deal that would provide Johnson with courtside seats at Suns games, membership at a prestigious nearby golf club, top treatment for his family and financial contributions toward an expensive insurance policy. The Diamondbacks were starting to separate themselves from their division rival, the Dodgers.
"Every discussion with the Dodgers was 'what'll it take?'" Meister recalls. "And every discussion with the Diamondbacks was 'What can I do for you? What can I do to make this work? How can we make you our partner?'"
The Diamondbacks' offer was competitive from a financial standpoint, too. Arizona offered $52.4MM over four years with an option for a fifth year. The offer had significant escalators and incentives, plus the aforementioned perks. Arizona's proposal included a $500K Cy Young bonus that would double with each additional Cy Young. Johnson accepted.
"In the end he probably took a little less money to be where he knew it was the right place to be, and he was right," Meister said. "It was the right manager. It was the right owner. It was the right general manager. With Curt Schilling there [starting in 2000] it was the right pitching staff."
At the time it might not have seemed prudent for a 97-loss expansion team to invest so heavily in a 35-year-old pitcher. Few players would have justified the expense. Johnson, ever the exception to prove the rule, did just that, winning four Cy Young awards and leading the Diamondbacks to a World Series title. Colangelo's investment couldn't have worked out any better.
Photo courtesy of USA Today Sports Images.