The Mets locked up their most famous player through 2020, boldly following that move by trading the NL Cy Young winner for prospects.
Major League Signings
Notable Minor League Signings
Trades and Claims
Extensions
Notable Losses
R.A. Dickey, Mike Nickeas, Josh Thole, Kelly Shoppach, Scott Hairston, Andres Torres, Mike Pelfrey, Jon Rauch, Chris Young, Ramon Ramirez, Ronny Cedeno, Jefry Marte.
Needs Addressed
In early December, the Mets locked up the face of their franchise by giving third baseman David Wright seven years and $122MM in new money.  Some will argue that the Mets "had" to retain Wright, unless they wanted to deal with a revolt from fans who haven't seen them finish better than fourth place since 2008.  The Madoff suit had been settled prior to the season, and Wright was coming off a vintage year.  This was more than just a contract extension; it was a grand gesture to fans.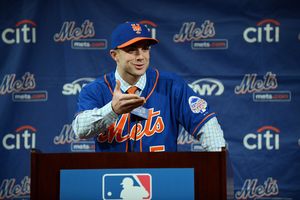 Signing Wright is certainly a decision that would require the involvement of ownership.  Still, back in 2010, GM Sandy Alderson had expressed a preference to avoid "second generation" contracts, and the Wright deal qualifies as such.  The extension covers his age 31-37 seasons, obviously not the ideal slice of any player's career.  In the Mets' defense, at an average annual value of under $17.5MM, Wright doesn't need to be a superstar for the team to recoup value.  Deferred money and a frontloaded structure are also points in the Mets' favor.
The positive P.R. from the Wright signing may have softened the blow for the team's half-hearted attempt to extend reigning Cy Young winner R.A. Dickey.  The knuckleballer was already under contract for a mere $5MM for 2013, after the team exercised its club option.  Dickey reportedly asked for two years and about $26MM for 2014-15, his age 39-40 seasons.  That request was more than reasonable even given Dickey's age, but the Mets reportedly stopped at two years and about $20MM.  The implication is that the team didn't really want to extend him, and Dickey was instead traded to Toronto.
For the Mets, the need to add a pair of blue-chip prospects outweighed the team's desire to field the best possible team in 2013.  The team's farm system was ranked 26th in baseball by Baseball America prior to the trade.  They added a consensus top 25 prospect in catcher D'Arnaud, plus a top 100 prospect in righty Syndergaard.  The deal pushed their system into the 18-20 range overall, according to BA's Jim Callis.  With Zack Wheeler, Matt Harvey, Syndergaard, and Jon Niese, the Mets could have an intriguing, affordable rotation in place by 2015.
In the shorter-term, the Mets addressed the departures of Dickey and relievers Ramirez and Rauch by adding bargain free agents Marcum and Lyon and other potentially useful veterans on minor league deals.
Questions Remaining
When will the Alderson regime start spending significant money on new players?  The time to pounce could be the 2013-14 offseason, when players such as Johan Santana, Jason Bay, John Buck, and Frank Francisco come off the books.  The 2014 club has only Wright and Niese under contract, plus potentially decent arbitration contracts for Ike Davis, Daniel Murphy, and Bobby Parnell.  It might be appropriate to bring in a few corner outfielders and late-inning relievers.
For 2013, the team's outfield could be quite bad.  The Mets could begin the season with players like Lucas Duda, Kirk Nieuwenhuis, Mike Baxter, Collin Cowgill, and Marlon Byrd holding starting positions.  The silver lining is that the Mets can offer opportunity, and could find a diamond in the rough.
There's also the question of the team's bullpen, which looks mighty shaky after Parnell and Lyon.  Again, the one benefit of such a shaky group is uncovering a sleeper.
Deal of Note
Alderson snagged Marcum in January for just a $4MM guarantee, much less than I would have predicted at the outset of the offseason.  With one of the slowest right-handed fastballs you'll find in the Majors, Marcum came cheap after missing two months due to an elbow issue.  He posted a 3.59 ERA in 396 innings over 2010-11, so he's not far removed from solid mid-rotation innings eating.
Overview
The Mets have been a sleeping giant under the Alderson regime, parting ways with their best veterans other than Wright, avoiding free agency, and allowing their attendance to slip to 17th in MLB.  A decent rotation won't be enough to overcome the team's gaping holes in 2013, but perhaps the season will provide a sneak preview for the Mets' return to relevance in the coming years.