The Yankees seem determined to avoid the luxury tax in 2014, yet the club entered the 2012-13 offseason with a variety of major needs. They addressed most of them with short-term solutions, only to see more issues emerge. 
Major League Signings
Hiroki Kuroda, SP: one year, $15MM.
Andy Pettitte, SP: one year, $12MM.
Mariano Rivera, RP: one year, $10MM.
Robinson Cano, 2B: one year, $15MM. Club option exercised.
Kevin Youkilis, 3B: one year, $12MM.
Ichiro Suzuki, OF: two years, $13MM.
Travis Hafner, DH: one year, $2MM.
David Herndon, RP: one year, $750K.
Curtis Granderson, OF: one year, $15MM. Club option exercised
David Aardsma, RP: one year, $500K. Club option exercised.
Total Spend: $95.25MM.
Notable Minor League Signings
Trades and Claims
Acquired RP Shawn Kelley from Mariners for OF Abraham Almonte.
Claimed UT Russ Canzler off waivers from Indians.  Later claimed off waivers by Orioles.
Claimed RP Jim Miller off waivers from Athletics.
Claimed RP Mickey Storey off waivers from Astros.
Claimed RP Josh Spence off waivers from Padres.
Claimed RP David Herndon off waivers from Blue Jays.
Claimed C Eli Whiteside off waivers from Giants. Later claimed off waivers by Blue Jays.
Notable Losses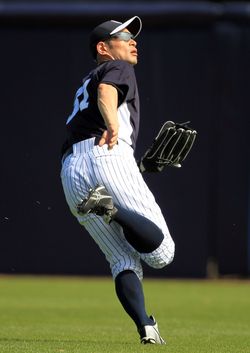 Needs Addressed
Lavish spending set the Yankees apart from other MLB teams for years. No other franchise spent as aggressively, and it was difficult to argue with the results: five championships since 1996. Their wild spending habits have now disappeared, but Brian Cashman's job description hasn't changed. He's still tasked with bringing another championship to New York.
Cashman retained starters Hiroki Kuroda and Andy Pettitte on one-year deals, solidifying the rotation for 2013. The veteran pitchers didn't require long-term commitments — a bonus for any team, especially the suddenly cost-conscious Yankees. 
Mariano Rivera returns for a 19th season in pinstripes after signing a one-year deal. Spending $10MM on a reliever returning from a lost season wouldn't make sense in most instances, but this is the greatest closer of all time, someone who has proven he can succeed past his 40th birthday.
The Yankees added a number of accomplished but aging position players in Ichiro Suzuki, Kevin Youkilis, Travis Hafner and Juan Rivera. Suzuki required a two-year commitment, which was something of a surprise considering his combined .308 on-base percentage for 2011-12. Yet Suzuki played well after joining the Yankees in a midseason trade, providing strong defense. Plus, the Phillies reportedly offered more than the Yankees did, so the market for Suzuki was strong. 
The addition of Youkilis makes sense in my view. He's not the player he once was, but considering the thin offseason market for third basemen and Alex Rodriguez's hip issues the Yankees did well to acquire Youkilis, a longtime New York nemesis. 
Though Hafner is another player in decline, the Yankees don't need him to perform at the level he did seven or eight years ago. Instead, they'll hope his left-handed swing translates into lots of Yankee Stadium home runs. It's a gamble worth taking and — notice a pattern here? — it's just a one-year commitment.
Questions Remaining
Even though the free agent market for catchers featured Russell Martin, Mike Napoli and A.J. Pierzynski, the Yankees passed, choosing instead to rely on Chris Stewart and Francisco Cervelli behind the plate. Neither Stewart nor Cervelli has played 100 games in a season, so the Yankees are taking on significant risk here.
The starting rotation must be considered a concern, especially now that Phil Hughes may not be ready for Opening Day. Pettitte hasn't started 30 games since 2009 and can't be counted on for a full season. And while David Phelps, Ivan Nova and Adam Warren are valuable arms, the Yankees would presumably prefer not to have to rely on these players to lead them to October.
Health is a concern for many Yankees, including Derek Jeter, who's recovering from ankle surgery, and Rivera, who missed almost all of the 2012 season. The embattled Rodriguez won't be back before midseason due to his hip issues.
Another infielder, second baseman Robinson Cano, has received a "significant" contract offer from the Yankees. The club must now determine whether Cano and agent Scott Boras define "significant" differently than they do, or if a long-term deal remains within reach.
The Yankees also have a potential need in left field, now that Curtis Granderson is sidelined with a broken arm. In one sense the timing is ideal — half of Granderson's recovery period overlaps with Spring Training. In another sense, it's too late for Cashman to pursue upgrades now that the best trade candidates and free agents are no longer available. 
Deal of Note
Credit the Yankees for their handling of free agents Kuroda, Rafael Soriano, Nick Swisher. All three players obtained qualifying from the Yankees early on in the winter, and all three players declined the $13.3MM offers. The results could hardly have been better from the Yankees' perspective. Kuroda later signed a one-year deal with New York, where he'll look to build on a strong 2012 season. Swisher and Soriano left, bringing the Yankees valuable compensatory picks in the upcoming amateur draft. 
In particular, the Yankees' dealt with Soriano much differently than they did two offseasons ago, when they initially signed him. During the 2010-11 offseason, upper level Yankees executives were intent on signing Soriano, even though it cost them a draft pick to do so. Two winters later, the Yankees preferred the draft pick to the player.
Overview
The Yankees' offseason moves weren't particularly exciting. The organization changed course, bypassing the elite free agents they would have pursued five or ten years ago in the hopes of avoiding baseball's luxury tax by 2014. Limited by this goal, Cashman signed veterans to short-term deals, addressing most needs, and setting the team up for another run at a championship. After a good, but not great offseason, the Yankees have a good, but not great team.
Photo courtesy of USA Today Sports Images.