The Diamondbacks made a number of moves that raised eyebrows and invited skepticism this offseason, and they'll have to improve on last year's .500 record to silence those naysayers.
Major League Signings
Cody Ross, OF: three years, $26MM. Club option for 2016.
Brandon McCarthy, P: two years, $15.5MM.
Wil Nieves, C: one year, $800K.
Eric Chavez, UT: one year, $3MM.
Eric Hinske, IF: one year, $1.075MM.
J.J. Putz, RP: one year, $6.5MM. Club option exercised.
Total Spend: $57.875.
Notable Minor League Signings
Trades and Claims
Extensions
Paul Goldschmidt, 1B: five years, $32MM. $14.5MM Club option for 2019.
Aaron Hill, 2B: three years, $35MM.
Martin Prado, UT: four years, $40MM.
J.J. Putz, RP: one year, $7MM.
Cliff Pennington, SS: two years, $5MM.
Notable Losses
Needs Addressed
The Diamondbacks made the first notable move of the "offseason" (it actually came prior to the World Series) when they traded Chris Young to the A's in a three-team deal with the Marlins that brought Cliff Pennington and Heath Bell to Arizona. Pennington provides the team with an immediate replacement for Stephen Drew, though his bat prevents him from being a long-term solution.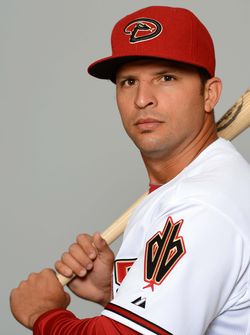 After publicly calling Drew out for durability issues and his desire to take the field last season, the Diamondbacks prioritized finding a long-term solution at shortstop. They believe that they did so in acquiring Didi Gregorius from the Reds in a three-team deal that also involved the Indians, but they paid a steep price in the form of prized pitching prospect Trevor Bauer. Bauer isn't without flaws; he has a 4.2 BB/9 in the minors and his personality reportedly clashed with teammates and ownership.
Scouts offer mixed reviews on Gregorius' bat, with many believing that he could end up hitting near the bottom of the order. The consensus is that the glove is legit, but presumably Gregorius will need to hit in order to justify parting with Bauer, who is the far more highly regarded prospect.
Even after dealing Young the team had a bulk of quality outfielders with Justin Upton, Gerardo Parra, Jason Kubel and Adam Eaton all in tow. That surplus made it all the more surprising when Cody Ross was signed to a three-year, $26MM deal.
The Ross signing made it even more apparent that Arizona was likely to part with one of Upton or Kubel. After nearly two years of speculation and an avalanche of trade rumors, they agreed to a trade with the Mariners only to have Upton enact his limited no-trade clause.
Weeks later, Upton was sent to the Braves in a trade that would put him in the same outfield as his older brother. GM Kevin Towers dealt Upton and Chris Johnson and received Martin Prado, Randall Delgado, Nick Ahmed and Brandon Drury in return. While that's a nice package of players, most agreed that the Mariners' proposed package (Nick Franklin, Stephen Pryor and Taijuan Walker) was a stronger offer.
Prado was one of five D-backs players to receive extensions this offseason, as he was locked up to a four-year deal worth $40MM. There seems to be a perceived gap between Prado and Upton, but Prado was worth 5.6 fWAR last season, and the D-backs will now control him for four years while Upton had only three years of control left.
Paul Goldschmidt, Aaron Hill, Cliff Pennington and J.J. Putz all received extensions as well, though one has to wonder if guaranteeing Pennington's 2014 salary was necessary given his questionable offensive track record.
Putz's $7MM extension is reasonable in price relative to the market, but I'd think David Hernandez could've taken over as closer in 2014 and excelled. Hill's free agent years were locked in more cheaply than peers such as Brandon Phillips and Ian Kinsler. He hasn't been as consistent as that pair, but 2012 showed that his ceiling is comparable. Goldschmidt is the only first baseman to sign an extension with one-plus year of service time, but the price is comparable to contracts signed by other position players with similar service time. Arizona could have played it safe and waited a year, but the price would have risen substantially if his power progresses as many expect it to.
Brandon McCarthy was added on a very reasonable two-year deal and offers considerably more upside than pitchers who signed for comparable amounts (e.g. Joe Blanton, Kevin Correia). McCarthy should be an upgrade over Joe Saunders, although he comes with questions surrounding his durability.
Towers and his staff once again spent on veteran bench bats and utility players. Last offseason it was Willie Bloomquist, John McDonald and Lyle Overbay. This offseason the team signed Eric Chavez ($3MM) and Eric Hinske ($1.075MM). There's something to be said for veteran leadership, and Chavez is coming off a strong 2012, but generally speaking the production provided by these types of players can be found cheaper.
Questions Remaining
Even after prioritizing shortstop, the Diamondbacks have opened the season with Pennington and his career .249/.313/.355 batting line as their starter. Gregorius could be ready to take over if Pennington struggles, but there's no guarantee that he will be a major upgrade with the bat.
Eaton and Ross opened the season on the DL, leaving the D-backs to deploy an outfield mix of Kubel, Parra, A.J. Pollock and Alfredo Marte. The collection of outfielders on Arizona's 40-man roster isn't a star-studded group, and any setbacks to Ross or Eaton could expose some depth issues. Both Kubel and Ross have significant platoon splits, so the group as a whole runs the risk of being overexposed.
Deal of Note
Not only was the timing of the Young trade odd, the approach the D-backs took was puzzling. Arizona received only Bell (and his contract) and Pennington in exchange for Young, who has averaged 3.6 fWAR over the past three seasons. Young isn't without flaws — he strikes out in 22 percent of his plate appearances and has noticeably better numbers against left-handers than right-handers — but I feel that he should've netted more in a trade. With so many teams looking to acquire outfielders later in the offseason, it seems they jumped too soon.
The strangest part is that those same strikeout and platoon caveats apply to Ross, but Young is a far more capable center fielder. Arizona essentially traded Young for a bad contract and then opted to sign an older version of a similar player with a weaker glove.
Overview
The Diamondbacks have been outspoken in recent years about their discontent with certain players, and they haven't been shy about cleaning house to remove those who they deem problematic (Drew, Upton, Bauer). While they drew plenty of skepticism for their trades, Prado stands out to me as an underrated commodity who should exceed the value of his extension. With a nice core of position players and a solid rotation locked up for the foreseeable future, Arizona should be no worse than a .500 club for the next couple of seasons. The top of the division looks tough with the Dodgers and Giants in the mix, but Arizona has the pieces in place to make a run.
Photo courtesy of USA Today Sports Images.