Pick one player from each of eight tiers and you've got a shot at part of the $400 prize pool in DraftStreet's latest MLBTR freeroll!  You've got nothing to lose by signing up and making your picks, as this game has no entry fee.  You'll be competing based on the stats your eight players accumulate in Friday's night games. 
My team leans toward multi-talented offensive players who can steal a few bases, such as Ryan Braun, Chase Headley, Andrew McCutchen, Austin Jackson, and Alex Rios.  I also made sure not to get drawn in by small samples – Josh Willingham has big power, even if he hasn't shown it in May.  Let us know about your strategy in the comments.  Check out the scoring categories in the rules section.  A screenshot of my roster: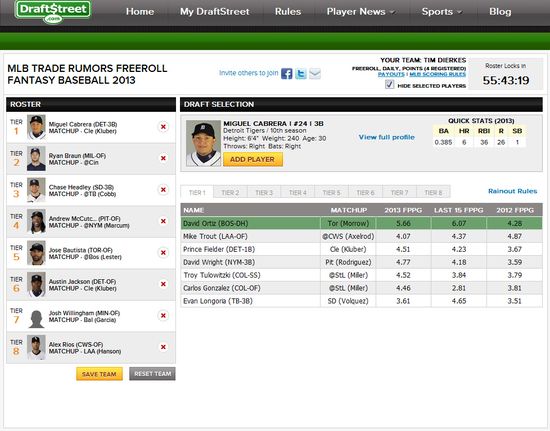 Take five minutes to make your picks for Friday's games, and you've got a shot at the $400 prize pool!  Registration closes at 6pm central time on Friday.  Please note that this post is a paid advertisement by DraftStreet.