WEDNESDAY, 12:19pm: The Astros will officially sign Appel this afternoon, according to Brian T. Smith of the Houston Chronicle (on Twitter).  The club has put out a press release confirming the deal.
SATURDAY, 4:25pm: It appears that the Astros have accomplished what the Pirates could not last year.  Houston has agreed to terms with first overall pick Mark Appel on a deal worth $6.35MM.  That number falls below the suggested slot value for the No. 1 pick, which is $7.79MM, according to Baseball America.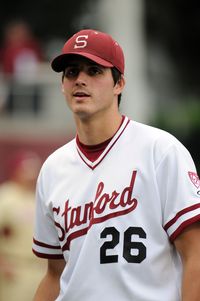 Appel, who is advised by Scott Boras, was drafted last year by the Pirates at No. 8 but ultimately did not sign.  The right-hander arguably would have gone higher in the 2012 draft if it weren't for signability concerns.  It was reported that the Bucs offered the right-hander $3.8MM and from a money standpoint, Boras and Appel have come out on top.
Appel was ranked as the top prospect in the draft by ESPN's Keith Law and MLB.com's Jonathan Mayo.  Baseball America had him pegged as the second-best prospect in his class, behind Oklahoma right-hander Jonathan Gray, who went No. 3 to the Rockies.
The Stanford product shows everything scouts look for in a frontline pitcher, according to BA.  Appel's fastball sits in the mid-90s and gets as high as 98 mph, and he holds his velocity deep into games.  The right-hander has improved in each year at Stanford and figures to move quickly through the minor leagues.
CBSSports.com's Jon Heyman first reported that an agreement was reached while Jim Callis of Baseball America tweeted the value of the deal.  Additional details were provided by Ken Rosenthal of FOX Sports (via Twitter).  Photo courtesy of USA Today Sports Images.  Zach Links contributed to this post.