9:05pm: Gordon Wittenmyer of the Chicago Sun-Times reports (via Twitter) that the Cubs can select right-hander Neil Ramirez as the PTBNL in the deal. However, if the Cubs select Ramirez, they will not receive a second PTBNL. Otherwise, they can select two other pitchers from the agreed upon list of names.
6:20pm: The Rangers aren't afraid to make splashes and add pitching help if they feel they have a shot at the World Series. In 2010, it was Cliff Lee. In 2011, it was Mike Adams and Koji Uehara. In 2012, it was Ryan Dempster. This season, it's Matt Garza. The Rangers and Cubs have officially announced a trade that will send Garza to Texas for third baseman Mike Olt, right-hander Justin Grimm, right-hander C.J. Edwards and at least one player to be named later, although Rangers GM Jon Daniels noted that the Cubs can also receive a second PTBNL depending on who they select as the first. The Cubs will be choosing the PTBNL(s) from a list entirely composed of pitchers, GM Jed Hoyer said Monday.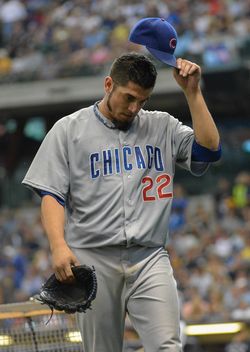 Garza, 29, has been tremendous for the Cubs in limited action this season. Though he began the year on the disabled list, he's shown little signs of rust since being activated on May 21. In 71 innings, Garza has pitched to a 3.17 ERA with 7.9 K/9 and 2.5 BB/9. He will join the front of a loaded Rangers rotation that also features Derek Holland and Yu Darvish, who is set to return from the DL tonight. Garza is a free agent at season's end and therefore cannot be tied to draft pick compensation, meaning that he is strictly a rental for the Rangers, barring a long-term extension. He currently ranks fifth on Tim Dierkes' Free Agent Power Rankings.
Olt, 24, entered the season as the No. 22 prospect in baseball according to both Baseball America and MLB.com's Jonathan Mayo, while ESPN's Keith Law ranked him 71st. Olt batted .288/.398/.579 at Double-A Frisco last season and made his Major League debut with the Rangers. He's battled vision problems in 2013, however, which could be the reason his production has tumbled to .218/.318/.438 at Triple-A Round Rock. Prior to the season, BA praised his plus raw power and advanced hitting approach, calling him "a threat to go deep anytime he steps to the plate." BA, Law and Mayo all agree that he's a plus defender at third though Law questions whether or not he will make enough contact to hit at the big league level with any consistency.
Grimm, also 24, has made 17 starts for the Rangers this season but posted an ugly 6.37 ERA in 17 starts. However, Grimm posted a 3.93 ERA through his first nine starts, and advanced metrics like FIP (4.79), xFIP (4.25) and SIERA (4.34) all suggest that his ERA should be substantially lower. Prior to the season, BA ranked Grimm fifth among Rangers prospects, calling him a potential mid-rotation starter. He's averaged 91.4 mph on his heater this season, also mixing in a 12-to-6 curveball and a changeup.
Edwards, 21, ranked as Texas' No. 14 prospect prior to the season, according to BA, whose scouting report notes that the South Carolina native fell to the 48th round of the draft and signed for just $50K because he didn't pitch in any high-profile showcases prior to the 2011 draft. Edwards' stock has skyrocketed in 2013, as he's pitched to a pristine 1.83 ERA with 11.8 K/9 and 3.3 BB/9 in 93 1/3 innings for Class A Hickory.
Ken Rosenthal of FOX Sports first reported that the two sides were nearing a new deal for Garza (Twitter link). Jeff Passan of Yahoo Sports was the first to break that a deal had been reached, and he also was the first to report Olt's inclusion (Twitter links). Rosenthal tweeted that Edwards and a third player would be going to the Cubs, and Passan reported that the package included Grimm and a PTBNL (on Twitter). Anthony Andro of FOX Sports Southwest reported that the Cubs could receive one or two PTBNLs, depending on who they selected as the first (on Twitter).
Photo courtesy of USA Today Sports Images.