What was on track to be one of the best relief seasons in history was derailed when Jesse Crain hit the disabled list with a shoulder injury in early July. The 32-year-old right-hander had recently seen a streak of 29 straight scoreless appearances come to an end when he hit the DL, and while it was originally thought that he might be able to return prior to the trade deadline, he didn't throw another pitch in 2013. The Rays acquired Crain in a conditional deal at the deadline with an eye toward bolstering their bullpen down the stretch but don't have the luxury of turning to him in tonight's Wild Card playoff game against the Indians. He'll have to carry injury concerns surrounding his shoulder into free agency this offseason.
Pros/Strengths
If you're looking for strikeouts late in the game — and what team isn't? — Crain delivers. His K/9 rate jumped from 7.5 to 8.2 in his final year with the Twins, then rose to 9.6 in his first year with the White Sox and sat at 11.3 in 2012-13. Crain always had plus velocity, but his strikeouts took off when his slider usage jumped from 22 percent in 2009 to 43 percent in 2010. This year, he's scaled the usage of his slider back to around 30 percent in favor of his curveball, though PITCHf/x actually gives his curve negative value.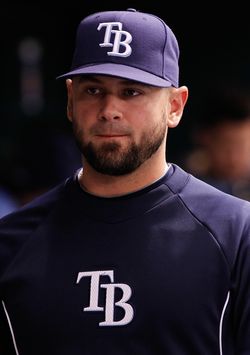 Since increasing his breaking ball usage in 2010, Crain has a 2.39 ERA with 9.8 K/9, 3.8 BB/9 and a 36.3 percent ground-ball rate. His 3.20 FIP and 3.16 SIERA in that time are both impressive as well. Crain's 3.65 xFIP punishes him by adjusting for a league-average homer-to-flyball ratio, but he's always shown a knack for keeping the ball in the yard, as evidenced by his career 7.4 percent HR/FB ratio.
He's shown the best command of his career in 2013's brief 36 1/3 inning sample size, walking only 11 batters (2.7 per nine innings).
Crain, of course, won't be tied to a qualifying offer, so interested parties won't need to worry about forfeiting a draft pick to sign him.
Weaknesses/Cons
The obvious red flag with Crain is his health. This isn't the first season in which he's missed significant time with a shoulder injury. Crain missed most of the 2007 season thanks to a torn rotator cuff and torn labrum in his right shoulder that required surgery. He's also had DL trips related to his shoulder in 2009 and 2012.
While the command he's displayed in 2013 is a plus, it's also a pretty major outlier for his career. Crain averaged four walks per nine innings over his past 295 2/3 big league innings (five seasons) before this season, so it's fair to wonder if he can keep that number under 3.0. His pristine ERA is also obviously unsustainable, though he did manage sub-3.00 ERAs in his first two seasons with the ChiSox, so he should still be plenty effective if healthy.
Personal
Crain was a three-sport athlete in high school, playing basketball and football in addition to baseball. He and his wife Becky have three children: Hunter, Avery and Caleb. Crain is active within the community each season, particularly with military-related events, per the White Sox media guide. In 2012, he visited veterans at the Walter Reed Medical center, participated in "Lunch with the Military" as part of White Sox charity week and participated in the "True Heroes" program at U.S. Cellular Field.
Market
As is the case every offseason, there will be no shortage of teams on the lookout for bullpen help. Crain's injury should limit him to a one-year deal, which would mitigate the risk for contending teams and make him appealing to non-contenders hoping to flip him at the trade deadline. While he hasn't served as a full-time closer to this point in his career (much of which was spent behind Joe Nathan), Crain's dominant season could net him some offers to pitch the ninth inning. That method has been successfully employed by the Astros (Jose Veras) and Pirates (Jason Grilli) recently.
Expected Contract
A one-year deal would be beneficial to Crain and would also mitigate risk for a signing team that had some hesitation surrounding his shoulder. Were he to sign a one-year deal with no option and pitch well for a full season, Crain could hit free agency as a 33-year-old next season — the same age at which Joaquin Benoit inked his three-year, $16.5MM contract with Detroit. Crain already has a three-year, $13MM contract under his belt, and another three-year deal wouldn't be out of the question after a strong 2014. Barring a severe setback in his recovery, I expect Crain to sign a one-year, $3.5MM contract with incentives based on innings pitched and perhaps games finished as well.
Photo courtesy of USA Today Sports Images.