Despite opening the season on the disabled list, Matt Garza looked to be in a position to claim the role of this offseason's top free agent starter. A slow finish to the season has jeopardized that thinking, but he still ranked seventh on Tim Dierkes' final edition of his 2014 Free Agent Power Rankings.
Strengths/Pros
A former first-round pick by the Twins, Garza hasn't posted an ERA higher than 3.95 since his initial call-up with Minnesota in 2006 — a stint that lasted just 50 innings. Only one other free agent starter — Tim Hudson — can boast seven consecutive seasons of an ERA south of 4.00, and Hudson is eight years older than Garza.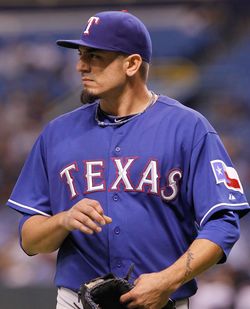 In terms of fastball velocity, Garza can bring it. He's only averaged less than 93 mph on his fastball once in his eight-year career, and that came in 2009 when he averaged 92.9 mph. Garza's 93.1 mph average in 2013 tops all free agent starters, and even his "weak" (by his standards) 2009 average would've been good enough to top the list.
He was a bit wild early in his career, but Garza has four straight seasons of a 2.9 BB/9 rate or lower, and he sat at 2.4 in 2013. Dating back to 2009, he's averaged eight strikeouts per inning on the dot, and he sat at 7.9 this season.
Garza has shined on the biggest of stages, as he owns a career 3.48 ERA with 8.4 K/9 and 4.1 BB/9 in 31 postseason innings. He dominated in the 2009 ALCS, yielding two runs over 13 2/3 innings in two starts en route to ALCS MVP honors.
Because he was traded midseason, Garza is ineligible to receive a qualifying offer and will therefore not be tied to draft pick compensation.
Weaknesses/Cons
Garza has been stricken with injuries over the past two years. A stress fracture in his right elbow ended his season in late July last year (and also prevented a trade), and a lat strain caused him to miss the first seven weeks of the 2013 regular season. He made all of his starts upon activation, but the simple fact is that he's thrown just 259 innings since Opening Day 2012.
While injuries prevented a trade last year, he was flipped to the Rangers midseason in 2013. As was the case when Ryan Dempster found himself flipped to Texas in 2012, Garza didn't finish very well. Though his walk rate improved and xFIP suggests that he was actually better with the Rangers than with the Cubs, he limped to a 4.38 ERA in 13 starts with Texas.
Garza seriously boosted his ground-ball rate in 2011, jumping from a pair of sub-40-percent seasons to a robust 46.3 percent. He increased that number further in 2012 with a 47.3 percent mark, but this season saw him drop back down toward his career levels. He induced grounders at a 38.6 percent clip in 2013, which is slightly lower than his already below-average career mark of 41.2 percent.
Setting aside his ugly rookie debut, Garza has a 3.75 ERA. Incredibly, advanced metrics FIP, xFIP and SIERA all peg him at exactly 3.96 from 2007-13. Garza can be realistically counted on for an ERA under 4.00 (and in some seasons, well under 4.00 with a bit of luck), but he lacks the durability and statistical profile of the front-line pitcher many have perceived him to be.
Personal
Garza married his high school sweetheart, Serina, and they have four children together. He is known as a passionate family man who loves to spend time with his wife and children. Per the Cubs media guide, his father, Rudy, is a Sergeant Major in the Army, and baseball clearly runs in the Garza family, as his brother Michael coaches high school ball in Florida. Garza has a fiery personality that can get the better of him at times. Garza blasted some Cubs fans on Twitter early in the year, calling them "fake" in reaction to their negativity. More controversially, he took to Twitter and launched a tirade at Athletics' second baseman Eric Sogard as well as Sogard's wife. Garza publicly apologized the following day, telling reporters that he "let his competitive spirit cross outside the lines" and that his "passion" and "fire" carried over beyond the playing field.
Market
Despite questions about his recent durability and his Twitter antics, Garza is one of the most talented and consistently productive (when healthy) pitchers on the free agent market. Many teams will be involved, particularly due to the fact that unlike Ervin Santana — the top domestic pitcher on MLBTR's Free Agent Power Rankings — he won't cost a draft pick. Other names like Hiroki Kuroda, Ubaldo Jimenez and A.J. Burnett could all be linked to draft pick compensation as well.
In a recent Free Agent Faceoff conducted by MLBTR's Aaron Steen, nearly 66 percent of the 10,000+ respondents said that they would rather have their team sign Japanese ace Masahiro Tanaka. After factoring in the posting fee and contract, however, Garza figures to be the cheaper option. Expect to see a wide array of teams expressing interest, as more than half the teams in Major League Baseball could use a rotation upgrade.
Garza is a California native, and though he's pitched for four Major League teams — the Twins, Rays, Cubs and Rangers — he's never had the opportunity to pitch close to home. It's not clear whether that will be a factor in his decision, but plenty of West Coast teams will be looking for pitching help.
Expected Contract
Many expected Garza to be the top arm on this year's free agent market, and while some may still feel that's the case, the emergence of Tanaka and rebirth of Santana have given him some stiff competition. Garza earns points for consistency when healthy and his relative youth, both of which will be determining factors in his free agency this offseason.
He doesn't boast the durability that Edwin Jackson did when he signed his four-year contract with the Cubs, but teams won't need to worry about the tumultuous on-field results that have plagued Jackson when considering Garza. Jackson's $52MM contract is the floor for Garza in my mind. He should have little trouble surpassing it, though he and agent Nez Balelo of CAA Sports may have trouble finding a fifth guaranteed year thanks to the slow finish and recent injury history.
Ultimately, I think Garza will command a four-year, $64MM contract this offseason. Such a deal easily tops the four-year commitments attained by Jackson and Mark Buehrle in recent years, while still affording Garza the opportunity to sign another significant contract heading into his age-34 season in 2018. A vesting option for that fifth year is another possibility, as the biggest current issue with Garza is his durability, not his performance.
Photo courtesy of USA Today Sports Images.