Over the next few months, I will be discussing some of the higher profile upcoming arbitration cases. I will rely partly on my arbitration model developed exclusively for MLB Trade Rumors, but will also break out some interesting comparables and determine where the model might be wrong.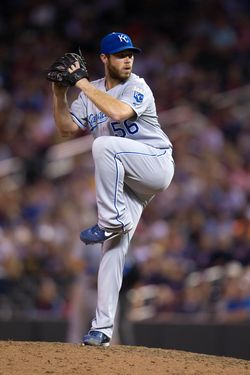 The league is full of young closers nowadays, and they all seem to be entering their first year of arbitration at the same time. There are seven different pitchers with at least 16 saves in 2013 who are entering arbitration for the first time, nearly a quarter of the entire league's closers. Craig Kimbrel has already been discussed in a previous article and his case is far stronger than any of the other pitchers. Aroldis Chapman has a pretty unique case, if not a better one, because he has been an elite closer for two years and will be opting out of a large contract to go through arbitration. Mark Melancon is different than the others as well, because he only really was a closer in the second half of this season, and only due to injury. However, there are a number of similarities between Ernesto Frieri, Steve Cishek, Greg Holland, and Kenley Jansen, and this article will be about the cases for each of them. The model only sees arbitration salaries of $3.4MM for Frieri and $3.2MM for Cishek, while it sees $4.9MM for Holland and $4.8MM For Jansen. In this article, I will explain why the model is making these predictions and discuss whether the actual salaries will diverge this much.
For relievers, the primary determinants of their arbitration salaries are the number of saves they had in their platform season, and the number of saves they had before their platform season, as well as the number of holds in their platform season and pre-platform season. To a lesser extent, platform-year ERA and pre-platform year ERA are important as well, and innings and strikeouts all play a key role too.
Holland has the most platform year saves of the group, with 47 this past year, on top of the 20 pre-platform saves he had. This number along with his 1.21 ERA explains why he had the largest salary projection of this group at $4.9MM. Although Jansen had fewer saves than the others with 28, his 1.88 ERA was better than Cishek's 2.33 and far better than Frieri's 3.80 this past season. Combining that with his 2.22 ERA pre-platform (better than the other three) and his 16 holds, and Jansen is projected nearly as high as Holland, with a $4.8MM estimate. Jansen's 34 pre-platform saves were also the highest of the four, and his 21 pre-platform holds stood only behind Holland's 27.
Frieri did have 37 saves in 2013 and 23 more beforehand, which is definitely a good case. Although his 3.80 ERA is high for a closer, his 98 strikeouts are way more than Cishek's 74, but less than Holland's 103 and Jansen's 111. Cishek had 34 saves in 2013 with 18 pre-platform. Frieri is projected to get $3.4MM and Cishek is projected for $3.2MM.
The record for closers entering their first year of eligibility still belongs to Jonathan Papelbon at $6.25MM (until Kimbrel breaks this record). His 41 platform year saves and 72 pre-platform saves puts him well ahead of this group. Even Bobby Jenks' 30 platform year saves were augmented by his 87 pre-platform year saves, putting him ahead of this group when he got a $5.6MM salary back in 2009.
Looking for pitchers who had similar pre-platform saves as well as platform saves is important, since anyone with three years of closing will have earned more than this group of four will. Holland's 47 platform year save count and 20 pre-platform year save count are a pretty unique pairing, so it will tough to find a perfect comparable. Everyone with over 40 saves in recent memory during their platform years had more pre-platform year saves.
Brian Wilson's 38 platform-year saves and 48 pre-platform year saves make for an interesting comparable. In 2010, he earned $4.46MM in his first year of arbitration eligibility. Of course, his 2.74 ERA is far worse than Holland's 1.21, so there seems to be a good chance that Holland could top this salary. On the other hand, if pre-platform year saves becomes important, than perhaps J.J. Putz's 2007 numbers of 36 platform-year saves and 10 pre-platform year saves could be a floor—but he only earned $2.7MM. Given how stale that number is at this point, I don't see Putz's name coming up in negotiations. I think that Holland will have a hard time arguing for anywhere over $5MM, which is what John Axford earned last year after accumulating 35 platform year saves and 71 pre-platform year saves, so I think that the $4.9MM estimate is probably about right for him.
For Jansen, his 28 pre-platform saves are on the low side, but his 16 holds, 1.88 ERA, and 111 strikeouts augment his case. He also 34 pre-platform year saves and his 2.22 ERA and 236 strikeouts before his platform year are a strength as well, in addition to the 21 holds he had already accumulated. Andrew Bailey's 2012 arbitration salary of $3.9MM could come up as a comparable for him. He had 24 saves in his platform-year but 51 in his pre-platform year, so he could be argued to be a ceiling for Jansen based on the pre-platform save total. However, his 3.24 platform-year ERA is far behind Jansen's 1.88 and Jansen's holds could help make up for the gap in pre-platform saves. Especially given the fact that Bailey had only 41 strikeouts in his platform season, I could see $3.9MM being a floor for Jansen.
Another potential comparable could be Chad Cordero, who received $4.15MM back in 2007. Although this is a stale number at this point, the 29 saves that Cordero had in his platform year are similar to Jansen's 28, and even though his 62 pre-platform year saves beat Jansen, his 3.19 ERA and 69 strikeouts fall short of him. Furthmore, Jansen's holds are really unique for a guy who has mostly been a closer and give him a small leg up on other names that keep coming up. In the end, something in the $4.8MM neighborhood could be a good bet, though I could see him ending up with less than this if platform year saves become too large of a factor.
Looking for comparables for Frieri is tricky if the high ERA comes into play. Even though he accumulated 37 saves in 2013, the 3.80 ERA that went along with them is abnormally high for a closer. In recent years, few such pitchers have met their criteria. Axford had a 4.68 ERA going into last year's negotiations, which yielded him $5MM, but given that he had 71 pre-platform saves, that would dwarf Frieri's 23, despite the similar number of saves during their platform years. Chad Cordero's name might make some sense as well, when he earned $4.15MM in 2007, but his 62 pre-platform year saves are also too many to make for a good comparable and an ERA of 3.19 isn't so bad either.
Another name that could come up in the negotiations over Frieri's salary is Juan Carlos Oviedo, who had a 4.06 ERA in 2009. He only had 26 saves though and no pre-platform saves. These factors got him only a $2MM salary, which probably is way below what Frieri will receive. Brian Wilson keeps coming up as a ceiling for Frieri. He had 38 platfrom year saves and 48 pre-platfrom year saves, so he has Frieri on the pre-platform year saves, and his 2.74 ERA is much better as well. His $4.46MM salary will almost definitely exceed Frieri's.
It's hard to pick anyone who makes sense in between these numbers so really anywhere from $2MM to 4.4MM seems possible for Frieri. Of course, I suspect he'll be somewhere in the middle of these two extremes, so I think that the $3.4MM projection is about right.
Cishek had 34 saves last year, but with only 18 pre-platform saves, he probably has a weaker case than these other closers. Pre-platform year saves matter a lot for first-time eligible closers, so looking for his comparables will entail limiting this. Akinori Otsuka seems to line up in some ways, but his projection is very stale. Back in 2007, he earned $3MM after recording 32 saves and a 2.11 ERA, but he only had 3 saves prior to his platform year. Since Cishek's ERA was 2.33, it could be that $3MM becomes a floor for Cishek. On the other hand, David Aardsma received $2.75MM in 2010 after recording 38 saves, but those were the first of his career. Given his 18 career holds are similar to Cishek's 16, and his 2.52 ERA is also near Cishek's, I could see the Marlins trying to hold down Cishek's salary by suggesting this comparable.
Of course, if Cishek can downplay the importance of pre-platform saves, he may be able to sneak Brian Wilson's $4.46MM salary into the argument. Wilson had 38 platform year saves, which is similar to Cishek's 34, and his 2.74 ERA was higher than Cishek's 2.33. However, I suspect the 48 pre-platform saves will make it hard to make this argument. Cishek coming in near $3.2MM as he is projected, just above Otsuka's $3MM and Aardma's $2.75MM seems likely.
Overall, despite the uncertainty and the difficulties in finding perfect comparables, it seems like the model is probably about right on all four of these guys. Although they each may be used as comparables for each other if one or two sign earlier than the others, drawing their salaries closer together based on the similarities between their platform year and pre-platform year saves, I suspect that the large gap in ERA and strikeouts ends up pushing them further apart, as well as Holland's standout headline of 47 saves.
Photo courtesy of USA Today Sports Images.