A down-and-up 2013 season did not prevent Dan Haren from landing an eight-figure guarantee, as the hurler has officially agreed to a one-year, $10MM deal with the Dodgers. The contract includes a $10MM option for 2015 that vests if Haren throws 180 innings. Haren is represented by Greg Landry of CAA Sports.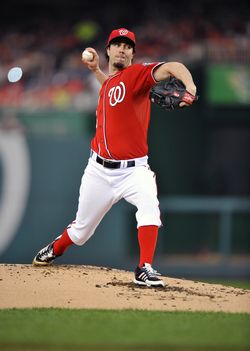 Both the guaranteed and the option year base salaries could be boosted significantly by incentives. Haren can make up to $3MM in added cash in 2014 based upon games started and innings pitched, beginning at 24 starts and 150 innings pitched. 
Haren, 33, posted a 4.67 ERA with 8.0 K/9 and 1.6 BB/9 in 2013. His peripherals indicated that he deserved better than his ERA indicated, with an xFIP a run lower. Given that Haren isn't particularly old and that he's pitched at least 169 2/3 innings in every season since 2005, $10MM seems like a somewhat low total, particularly in an offseason in which Tim Lincecum got two years and $35MM and Jason Vargas got four years and $32MM. Still, MLBTR's Steve Adams had Haren pegged at one year and $10MM exactly, noting that Haren has already made $61MM in his career and might be willing to take less to stay near his family on the West Coast. Haren made $13MM last season as a member of the Nationals.
On Wednesday, we learned that Haren was talking to the Dodgers. He will join a Dodgers rotation picture that includes Clayton Kershaw, Zack Greinke, Hyun-Jin Ryu, Josh Beckett and Chad Billingsley, though Billingsley had Tommy John surgery in April, and Beckett's health is also in question. Indeed, Dodgers' GM Ned Colleti says he is still considering adding another arm to the club's mix of starters.
Ken Rosenthal of FOX Sports (via Twitter) first reported the deal. Jon Heyman of CBSSports.com reported via Twitter the vesting and incentive mechanisms. Dylan Hernandez of the Los Angeles Times tweeted the deal's finalization and final terms.
Charlie Wilmoth and Jeff Todd contributed to this post. Photo courtesy of USA Today Sports Images.