After a down season that saw the Angels decline their team option on him, Dan Haren signed a one-year, $13MM contract with the Nationals with the hope that a return to the Senior Circuit could boost his free agent stock. Unfortunately for Haren, 2013 brought more of the same, for the most part, and he's now set to head into free agency two seasons removed from his last ace-caliber campaign.
Strengths/Pros
Few pitchers in the game can boast better command than Haren, who has averaged more than 1.9 walks per nine innings just once in the past six seasons. Haren walked just 4.3 percent of the batters he faced in 2013, trailing only Bartolo Colon and Bronson Arroyo among free agents.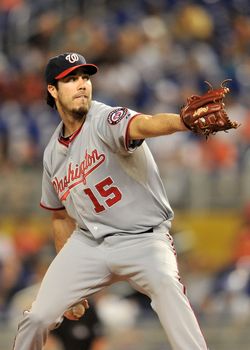 Haren has only been on the disabled list only twice. While both of those instances have occurred in the past two seasons, Haren seemed perturbed to be placed on the disabled list this season, implying at the time that the move was made more to give him a mental break than due to any true physical ailment in his shoulder.
Whether or not there was an injury severe enough to merit a DL stint, it's hard to argue with Haren's results after the time off. Upon being activated from the DL, Haren rattled off a 3.29 ERA over his final 15 starts (and one relief appearance in which he picked up a save in a 15-inning marathon game). Over those 16 appearances, Haren was in vintage form, striking out 84 batters against just 18 walks in 87 2/3 innings of work. Opponents batted just .228/.271/.355 against Haren in that time.
Both xFIP (3.67) and SIERA (3.60) feel that Haren's ERA should've been at least a full run lower than the 4.67 at which he finished.
National League clubs looking to sign Haren will be pleased with the offense he provides. The average NL pitcher hit .135/.167/.174 in 2013. Haren, who was an excellent hitter in his college days at Pepperdine, has a lifetime .215/.240/.312 batting line in 353 plate appearances. That line isn't pretty, but it's leagues better than most of his mound brethren can boast.
Haren recently turned 33, so while he's on the wrong side of his prime, he's not so old that there's no hope for him to sustain his second-half success over the course of a full a season next year. He didn't receive a qualifying offer from the Nats, so there's no draft pick compensation tied to Haren.
Weaknesses/Cons
One of Haren's main problems is that he's become increasingly homer-prone since 2012. Always a fly-ball pitcher, Haren's ground-ball rate dropped to a career-worst 36 percent in 2013. For the second straight season, he averaged more than 1.4 homers per nine innings, and that was coming in a pitcher-friendly stadium in the National League. Haren's average fastball velocity has clocked in at 88.7 mph over the past two seasons, which could have something to do with the increase in homers.
Haren's strikeout rate has dropped off in recent years. After averaging 8.7 K/9 with the Diamondbacks, he dropped to 7.2 K/9 with the Angels from 2010-12. This season with the Nationals, his strikeout rate climbed back to 8.0 per nine, but the move back to the NL played a large role in that jump. Haren whiffed nearly half of the opposing pitchers that he faced after facing just four pitchers in 2012. His K% against non-pitchers in 2013 (19.7 percent) was only a marginal improvement over his 2012 mark (19.1 percent).
Hitters are squaring up the ball with more frequency when facing Haren. His opponents' line-drive rate has risen in each of the past three seasons, climbing from 18.8 percent in 2010 to 19.5 percent in 2011 to 20.7 percent in 2012 to 21.9 percent in 2013.
From 2005-11, only CC Sabathia threw more Major League innings than Haren. Once a virtual lock to provide 220+ innings, Haren has failed to top 180 in each of the past two seasons. The 169 2/3 innings he totaled in 2013 are the fewest he's thrown in any full season.
Personal
The baseball offseason lines up well with Haren's interests, as he's an avid fan of the NFL and college football. His wife and two young children live in California, and Haren expressed the difficulty he found in being away from them to the Washington Post's Adam Kilgore late in the season: "From a personal standpoint, it was really tough," Haren said. "I hadn't been away from my kids. It's a year of their lives I'll never get back. From that standpoint, it's sad."
Market
In a candid interview with MASNsports.com's Dan Kolko, Haren recently said that he's never had as much self-doubt as he did in 2013, and coping with his struggles in a city where he knew few people was difficult at times. At a few points, things got so bad that he debated retirement. Haren acknowledged that he won't have as much say in where he lands this offseason as he did in 2012-13, but his preference is to pitch on the West Coast. His hometown of Monterey Park, Calif. is just minutes outside of Los Angeles and is a mere 120 miles from San Diego. Having spent 2005-07 with the A's, the Bay Area is a familiar environment as well, and both Oakland and San Francisco could look to add a veteran starter this winter.
If Haren can't find a home on the West Coast, many other teams will be looking for rotation help. The Pirates have shown a recent affinity for starters whose xFIP numbers dwarf their ERA, and Haren fits that mold to a tee. A return to the Nationals could make sense given his strong finish and the fact that the city no longer feels so unfamiliar. The Orioles, Yankees, Blue Jays and Phillies could all use rotation help, though their hitter-friendly environments may not be a fit for a pitcher whose home run rate continues to climb. Earlier today it was reported that the Twins have reached out to Haren as well.
Expected Contract
Haren salvaged some of his free agent value with a solid second half upon his return from the disabled list, but he's still likely in for a pay cut on 2013's $13MM salary. Another one-year deal seems to be in the offing for he and agent Greg Landry of CAA Sports, and Haren's frank remarks about the unease he felt playing in an unfamiliar city could suggest that geography will play a larger role in his 2014 destination than it would in most free agents' decisions.
Haren has already banked $61MM in his career, so he could settle for less cash if it meant pitching on the West Coast. Ultimately, while he hasn't resembled his former ace self over the past two seasons, he's done enough to earn more than fellow former ace Roy Halladay. My expectation is that Haren will sign a one-year, $10MM contract.
Photo courtesy of USA Today Sports Images.