It's not as flashy as their signings of Michael Bourn and Nick Swisher last offseason, but the Indians added to their outfield depth by officially signing David Murphy to a two-year contract with a third-year club option, the team announced on Monday. Murphy's contract is reportedly worth $12MM.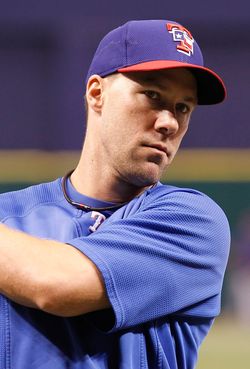 He will earn $5.5MM in 2014, $6MM in 2015 and has a $500K buyout on a $7MM club option for the 2016 season. Murphy is represented by Moye Sports Associates, according to the MLBTR Agency Database.
Murphy, 31, hurt his free agent stock in 2013 with a career-worst .220/.282/.374 in 476 plate appearances.  While Murphy seemed destined for a sizable deal after 2012, a season in which he posted an OPS of .859, he raised question marks for clubs in his follow-up act and didn't make Tim Dierkes' Top 50 Free Agents list.  The left fielder has spent the last seven years in Texas, posting a .275/.337/.441 slash line in that span.
With Bourn and Michael Brantley as virtual locks in the 2014 outfield, Murphy's addition brings Drew Stubbs' role with the club into further question. The two could form a platoon, as Murphy has a .280/.347/.469 slash line against righties in his career, and Stubbs has slashed .274/.349/.448 against lefties. That platoon would figure to pay the pair $9.3MM, however, which might be spendy for a solid but not elite tandem. The Indians could trade or non-tender Stubbs and give Murphy the bulk of at-bats in right field. 
Murphy began the 2013 season as Texas' starting left fielder but fell into a slump and saw his playing time dwindle.  A return to the Rangers was viewed as unlikely and it now appears that the club has their eyes on more ambitious outfield targets such as  Shin-Soo Choo and Jacoby Ellsbury, with Choo possibly being higher on their list. The Rangers could also bring back Nelson Cruz to give them pop in one of the corners.
Jamie Kelly of Shutdown Inning was the first to report that the Indians would sign Murphy (on Twitter). Evan Grant of the Dallas Morning News then reported that it was a two-year deal. The Cleveland Plain Dealer's Paul Hoynes reported that Murphy would receive $12MM, and his contract contained a club option (on Twitter). MLB.com's Jordan Bastian provided the financial breakdown (on Twitter).
Steve Adams contributed to this post. Photo courtesy of USA Today Sports Images.