Don't expect to hear Martin Perez's name on the rumor circuit anytime soon. The Rangers announced Thursday that they have agreed to a four-year deal with their 22-year-old left-hander.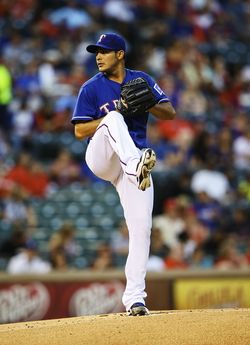 The contract reportedly guarantees Perez $12.5MM and contains three club options, meaning that Texas will have the ability to control Perez, a client of Felix Olivo's OL Baseball Group, through the 2020 season. 
Perez receives a $1MM signing bonus and will earn $750K in 2014. He'll be paid $1MM in 2015 and $2.9MM in 2016 — a year that would've been his first arbitration eligible season. Perez will earn $4.4MM in 2017, and the 2018 club option is valued at $6MM with a $2.45MM buyout. The Rangers hold a second club option for 2019 at $7.5MM (with a $750K buyout), and the 2020 option is for $9MM ($250K buyout). All told, Perez can earn $32.55MM over the life of the contract. The extension came together in less than two weeks, Olivo told MLBTR owner Tim Dierkes.
Perez, who turns 23 next April, posted strong numbers in his first extended taste of Major League action, compiling a 3.62 ERA with 6.1 K/9, 2.7 BB/9 and a 48.1 percent ground-ball rate in 124 1/3 innings (20 starts). Long hailed as a top Rangers prospect and one of the game's best pitching prospects, Perez ranked on Baseball America's Top 100 list for five consecutive years entering this season.
Perez is the third left-hander to receive an extension for the Rangers in the past three years, as Derek Holland signed a five-year, $28.5MM extension prior to the 2012 season and Matt Harrison signed a five-year, $55MM extension prior to the 2013 campaign. As MLBTR's Extension Tracker shows, Harrison and Holland signed their contracts with four-plus and two-plus years of service time, which explains the discrepancy between their guarantees and Perez's guarantee. This extension will buy out a pair of pre-arbitration seasons as well as Perez's first two arbitration years. The club options cover his final year of arbitration eligibility and his first two seasons of free agency.
Rangers general manager Jon Daniels seems to have followed the mold for extensions signed by Cory Luebke with the Padres, Wade Davis with the Rays and Brett Anderson with the A's. While three club options may typically seem to be particularly team-friendly, it's fair to point out that all three of those players would be considerably worse off had they not signed the deal, thus illustrating the benefit of opting for financial security. And, even if all three options are exercised, Perez will be able to hit free agency upon completion of his age-29 season, meaning he would still be in line for a significant free agent contract.
With this agreement, it seems that Perez can be penciled into the Rangers rotation for years to come alongside Holland, Harrison and ace Yu Darvish — an enviable collection of arms around which to build a team.
Jeff Wilson of the Fort Worth Star-Telegram was the first to report the $12.5MM guarantee (on Twitter). Joel Sherman of the New York Post added that roughly $2.5MM of that was a buyout on the option's first year (on Twitter). Perez's agent told MLBTR's Tim Dierkes the contract came together in less than two weeks (Twitter link). MLB.com's T.R. Sullivan provided the final breakdown.
Photo courtesy of USA Today Sports Images.