James Loney was an afterthought in the August 2012 blockbuster trade that reshaped the Red Sox and Dodgers, with Boston sending Adrian Gonzalez, Carl Crawford, Josh Beckett, Nick Punto, and cash to Los Angeles.  Loney joined various Dodgers prospects coming to the Red Sox, and soon after became a free agent for the first time.  He found just a $2MM guarantee with the bargain-shopping Rays, and made good by rediscovering his hitting stroke and playing his usual strong defense at first base.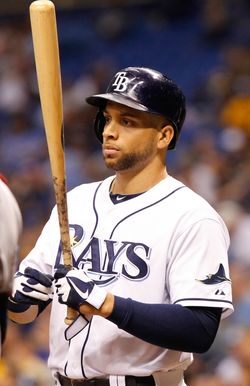 Strengths/Pros
Loney's line drive swing produced a .299 batting average this year, which ranked 13th in the American League.  His solid .285 career batting average is owed largely to his high contact rate.  He struck out just 12.9% of the time this year, a mark bested by only 17 AL players.  Loney's 29.8% line drive rate this year topped all of MLB.
Loney's strong batting average helped him to a .348 on-base percentage this year, topping the typical first baseman's .332 mark.  Weighted Runs Created Plus (wRC+), which is park and league-adjusted, measures a player's total offensive value against the league average.  Loney's 118 figure this year means he was 18% better than the league average hitter.  Among free agents with at least 400 plate appearances, Loney's wRC+ ranked ninth among all free agents, beating out players such as Kendrys Morales, Jacoby Ellsbury, and Justin Morneau.  Loney has shown he can excel in baseball card numbers as well, averaging 89 RBI per year from 2008-10.
While Loney's sweet swing had him batting fifth in the Rays' lineup for much of the year, his calling card is his defense at first base.  He was a Gold Glove finalist this year, and has continually been sought out for his defense.  Rays executive vice president of baseball operations Andrew Friedman explained Loney's positives in August to MLB.com's Bill Chastain, saying, "James has been one of the better defensive first basemen in the game for a while, and fit right in with our emphasis on defense.  But he's also demonstrated good natural hitting ability, especially against right-handers, and a contact bat that adds a different dimension to our lineup. We felt that with everything he brings to the table, he had a real chance to thrive in our environment."
Durability is another strong suit for Loney — he's never been on the disabled list in a career that has spanned eight seasons.  Aside from his tumultuous 2012, Loney has averaged 159 games per season since 2008.
Loney has youth on his side, as he doesn't turn 30 until May.  And unlike free agent first basemen Mike Napoli and Kendrys Morales, Loney did not receive a qualifying offer and is not tied to draft pick compensation.
Weaknesses/Cons
Loney is underpowered for a first baseman, a drawback for those who believe the offensive standard should be higher at his position.  He's continually posted isolated power marks around .130, while the average first baseman was at .176 this year.  The typical first baseman can hit at least 20 home runs, while Loney is generally good for 13 or so.  Loney can still add value as a hitter, but he won't appeal to teams seeking power in free agency.
Loney hit .299/.339/.390 against left-handed pitching in 166 plate appearances this year, providing hope that he will not need to be platooned.  But from 2010-12, Loney was terrible against southpaws, hitting .218/.256/.299 in 425 plate appearances.
Loney had a rough 2012 in general, hitting .249/.293/.336 in 465 plate appearances.  Overall, his play was below replacement level.  Loney has only been worth two-plus wins above replacement twice in his career, in 2011 and '13.  Otherwise, he's often been around replacement level.  Though he drove in a good amount of runs from 2008-10, Loney was still just a league average offensive player, and his defense generally doesn't make up for that.  The Rays seemingly rescued Casey Kotchman's career in 2011, but he was terrible in the season that followed.  Fair or not, some teams might connect the two first basemen and wonder if Loney can maintain success outside of Tampa Bay.
Personal
James' parents, Ann and Marion, met when both were basketball players at SUNY Oswego.  James was born in Houston and still lives in Texas with his wife Nadia and their son, born this year.  James told MLB.com's Ken Gurnick in 2008 he had a hard time deciding whether to root for the Astros or Braves as a kid.  When the Dodgers drafted Loney out of high school in the first round in 2002, most teams viewed him as a pitcher, wrote Dylan Hernandez of the L.A. Times in 2011.
Loney is known as a laid-back player.  "Loney is so calm that sometimes you wonder if there's a pulse," wrote Nick Cafardo of the Boston Globe in May.  "I think he's the most unaffected guy I know," Dodgers assistant GM Logan White told Hernandez in 2009.  Former teammate Randy Wolf used the word "spacey," and former manager Joe Torre agreed.  Giants first baseman Brandon Belt may own the nickname "Baby Giraffe," but Wolf used that term to describe Loney's awkwardness in the '09 article, and the first baseman's nickname was "Geoffrey" after the Toys R Us giraffe. 
Market
Loney changed agencies around the opening of free agency, jumping from CAA to The Legacy Agency.  Without knowing the details, the agency change prior to the biggest payday of Loney's career suggests dissatisfaction with his previous contract.
Several teams may be in the market for a first baseman this winter, assuming the Rays don't retain Loney.  The Brewers, Pirates, Twins, and Rockies don't have clear plans at first base, though the Rockies seem to be seeking right-handed power.  The Rangers could be an option if they move on from Mitch Moreland and find bigger bats elsewhere.  As far as starting first basemen, Loney's competition on the free agent market consists of Mike Napoli, Corey Hart, and Justin Morneau, plus maybe Kendrys Morales, Paul Konerko, Mark Reynolds, and Kevin Youkilis.
Expected Contract
I expect Loney's agent to set out with a three-year deal in mind, since he's a relatively young player and the average annual value on the contract won't be staggering.  Ultimately, I think he'll land a two-year, $16MM deal.
Photo courtesy of USA Today Sports Images.