FRIDAY: ESPN's Jerry Crasnick reports (via Twitter) that Vargas will receive $7MM in 2014, $8.5MM in 2015-16 and $8MM in 2017.
THURSDAY: Looking to fill a void in the rotation, the Royals announced that they have signed left-hander Jason Vargas to a four-year contract that will reportedly pay the southpaw $32MM.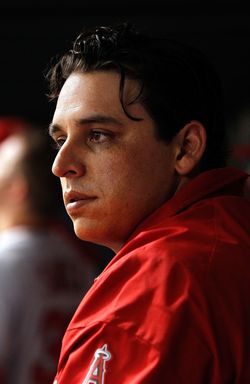 Vargas is represented by Nez Balelo of CAA Sports.
Vargas, 31 in February, pitched to a 4.02 ERA with 6.5 K/9, 2.8 BB/9 and 40.2 percent ground-ball rate in 150 innings. A blood clot shelved Vargas for nearly six weeks, but he made all of his starts upon returning. Vargas proved his health by finishing strong and hurling a shutout against the A's on Sept. 24. Aside from the blood clot, Vargas has been a highly durable arm, averaging 190 innings per season dating back to 2010. In that time, Vargas has a 3.97 ERA with 5.9 K/9 and 2.5 BB/9 in 761 innings. Though he averaged just 87.7 mph on his fastball in 2013, he posted a swinging-strike rate of 8.6 percent that wasn't too far off from the league average of 9.3 percent.
Vargas has always been a fly-ball pitcher, so moving to an environment like Kansas City should be a natural transition. Kauffman Stadium was one of the least homer-friendly stadiums in the league in 2013, per ESPN's Park Factors, which should help to maximize Vargas' effectiveness. While he was fairly stingy with homers in 2011 and 2013, he did average 1.4 homers per nine innings in 2012, so he has a propensity to get homer-happy at times.
The Angels originally acquired Vargas last offseason in a one-for-one swap that sent Kendrys Morales to the Mariners. Anaheim declined to make Vargas a qualifying offer at season's end, meaning Royals GM Dayton Moore will not have to sacrifice a draft pick in order to make this signing. In my free agent profile for Vargas, I predicted that he would sign for three years and $28.5MM, so while the total years is a bit surprising, the overall commitment is in line with the expectations at the time of that post.
The Royals had a clear need in the rotation with Ervin Santana and Bruce Chen both hitting free agency, and Wade Davis flopping in his initial attempt to reprise his role as a starting pitcher. Vargas will join ace James Shields, Jeremy Guthrie and presumably youngsters Danny Duffy and Yordano Ventura in Kansas City's 2014 rotation.
Jeff Passan of Yahoo Sports first broke the news of the signing (Twitter link), and Ken Rosenthal of FOX Sports reported the $32MM value (also on Twitter).
Photo courtesy of USA Today Sports Images.