The biggest trade from this week's Winter Meetings in Orlando is now complete. The Diamondbacks officially announced that they have acquired Mark Trumbo and minor league right-hander A.J. Schugel from the Angels and minor league outfielder Brandon Jacobs from the White Sox in a three-team deal. Arizona will send center fielder Adam Eaton to the White Sox and left-hander Tyler Skaggs to the Angels. The White Sox will also send left-hander Hector Santiago to the Angels.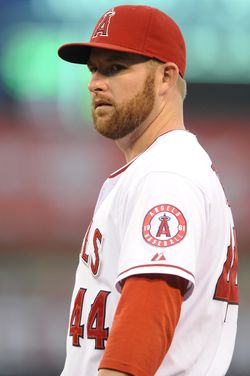 The Diamondbacks were set on acquiring either Trumbo or Shin-Soo Choo at the Winter Meetings, according to earlier reports. Trumbo (pictured) will slot into the outfield for the D-Backs, which isn't a perfect fit for Arizona given his defensive shortcomings there. Arizona will be looking for Trumbo's power to outweigh his shaky defense; he's belted 66 home runs over the past two seasons, posting a .250/.305/.471 batting line.
In 992 innings as an outfielder throughout his career, Trumbo has a -7.0 UZR/150. While his walk rate climbed to a career-best eight percent in 2013, that's still below the league average, and it came along with a career-worst 27.1 percent strikeout rate. Still, he should provide a great deal of power to a D-Backs outfield that finished last in the Majors in home runs in 2013. In fact, Trumbo's mark of 34 homers alone ties the collective mark posted by Arizona outfielders last season. Trumbo projects to earn $4.7MM via arbitration this offseason and can be controlled through the 2016 campain.
The White Sox have stated a desire to get younger and to add left-handed bats to their lineup, and the acquisition of Eaton will do just that. Formerly one of baseball's top prospects, the 25-year-old Eaton missed more than half of the 2013 season after opening the year on the DL with a sprained ulnar collateral ligament in his left (throwing) elbow.
In 380 career MLB plate apparances, Eaton is a .254/.332/.373 hitter with five homers and seven stolen bases. He's batted .365/.441/.522 with eight homers and 38 steals in 602 career plate appearances at the Triple-A level. Prior to the 2013 season, Baseball America ranked Eaton as Arizona's No. 4 prospect, noting that he'd made enough defensive strides to convince scouts that he is an everyday big league center fielder with double-digit home run pop, plus speed and a strong, accurate throwing arm. Should he pan out, Eaton could provide the White Sox with their center fielder of the future; he's controllable through the 2018 season.
The Angels have been in the market for young, controllable pitchers, and this trade allows them to fill out their rotation with a pair of promising young left-handers. This is the second time that GM Jerry Dipoto has acquired Skaggs. Dipoto acquired Skaggs for the D-Backs from the Angels in a trade for Dan Haren when he was Arizona's interim GM.
Skaggs appeared in the Top 15 of BA's Top 100 list prior to the 2012 and 2013 seasons but has struggled in his brief big league experience to date. Still just 22, he has a 5.43 ERA with 7.5 K/9, 3.7 BB/9 and a 40 percent ground-ball rate in 68 Major League innings. He has a 4.02 ERA with 8.7 K/9 and 3.2 BB/9 in 156 2/3 innings at the Triple-A level — all of which have come with him being one of the league's youngest pitchers. Skaggs won't be eligible for arbitration until at least 2016 and can be controlled through the 2019 campaign if he's in the Majors from here on out.
Santiago, who turns 26 next week, has a career 3.41 ERA with 8.7 K/9, 4.5 BB/9 and a 37.5 percent ground-ball rate in 224 2/3 big league innings. He's not arbitration eligible until next winter and can be controlled through the 2017 campaign. An extreme fly-ball pitcher, Santiago should enjoy Mike Trout playing behind him in center field.
Schugel dealt with blisters early in the season and saw a foot injury cut his season short in July after he posted a 7.05 ERA with 7.7 K/9 and 3.3 BB/9 in 89 1/3 innings at Triple-A Salt Lake. However, he posted a 2.89 ERA with 7.0 K/9 and 3.5 BB/9 in 140 innings at Double-A when he was healthy in 2012.
Baseball America ranked Schugel 12th among Angels prospects prior to 2013, noting that a strong fastball/changeup combo should allow him to become a back-of-the-rotation starter despite a questionable breaking pitch. BA also noted that Schugel is an excellent athlete that fields his position well.
Jacobs, 23, came to the White Sox from the Red Sox in the Matt Thornton deal in July. The outfielder hit .244/.320/.407 for three teams at Class-A Advanced and Double-A in 2013. He was eligible for the Rule 5 Draft, as was Schugel, which is why the pair had to technically be included as players to be named later.
ESPN's Keith Law was the first to report the three-team framework (on Twitter), and MLB.com's Steve Gilbert added that the D-Backs would receive two prospects as well (Twitter link). Nick Piecoro of the Arizona Republic tweeted that the trade was agreed to (Twitter links). Jack Magruder of FOX Sports Arizona tweeted that the D-Backs would receive Schugel from the Angels, and John Gambadoro of Sports 620 KTAR in Phoenix was first to suggest that Jacobs would be the PTBNL coming from Chicago.
Photo courtesy of USA Today Sports Images.