The Phillies added to their rotation on Wednesday by officially announcing the signing of right-hander Roberto Hernandez to a one-year, $4.5MM contract. In addition to that base salary, Hernandez can earn $1.5MM via incentives. MLBTR's Tim Dierkes has learned that Hernandez will earn $200K for reaching 140 and 155 innings pitched, $300K for reaching 170 and 185 innings pitched, and $500K fo reaching 200 innings pitched. Hernandez is represented by Charisse Espinosa-Dash and Jorge Brito of Draft Pix Sports.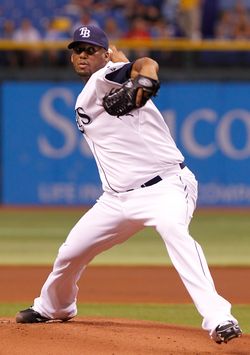 On the morning that the agreement was reported, GM Ruben Amaro Jr. told reporters that he had an agreement in place with a starter but didn't wish to disclose the pitcher's name until a deal was finalized.
Formerly known as Fausto Carmona, the 33-year-old Hernandez pitched to a 4.89 ERA with 6.7 K/9, 2.3 BB/9 and a healthy 53.2 percent ground-ball rate in 151 innings, marking his first full season since 2011. Hernandez will join a rotation that is fronted by Cliff Lee and Cole Hamels and also figures to include Kyle Kendrick and Cuban right-hander Miguel Alfredo Gonzalez as well.
Though his ERA wasn't all that impressive, Hernandez was primarily done in by the fact that 20.9 percent of his fly-balls left the park — a rate that is nearly twice as high as his career mark. Assuming that trend was an anomaly, it could be reasonable to expect a 2014 ERA that more closely resembles Hernandez's 3.60 xFIP or 3.66 SIERA — both of which reward him for solid command and a plus ground-ball rate.
Hernandez's best season came in 2007 when he finished fourth in the American League Cy Young voting after posting a 3.06 ERA in 215 innings for the Indians. A hip injury derailed his 2008 campaign and likely impacted his 2009 season as well, but he came back strong with Cleveland in 2010, posting a 3.77 ERA in 210 1/3 innings and earning his first All-Star selection.
A move to the National League for the first time in his career will likely benefit Hernandez, and his career 57.8 percent ground-ball rate will play well in the small dimensions of Citizens Bank Park. Dierkes reports (on Twitter) that the Cubs were also very competitive on Hernandez, but Hernandez really wanted to pitch in Philadelphia.
Jim Salisbury of CSN Philly first reported the agreement with Hernandez (on Twitter). MLBTR's Tim Dierkes was the first to report the terms of the contract and the incentives structure (via Twitter).
Photo courtesy of USA Today Sports Images.