JAN. 10: Feldman's deal is front-loaded, tweets Jon Heyman of CBS Sports. The right-hander will earn $12MM in 2014, $10MM in 2015 and $8MM in 2016.
DEC. 6: Though several of their starters turned in a strong finish to the 2013 campaign, the Astros' rotation still ranked 28th in ERA and 27th in innings pitched. Looking to add an experienced arm to help solidify an unstable group of starters, Houston announced a three-year deal for right-hander Scott Feldman that is reportedly worth $30MM. It's been a busy few days for Feldman's agent, Matt Brown, as he also represents Curtis Granderson, who just agreed to a four-year, $60MM deal with the Mets.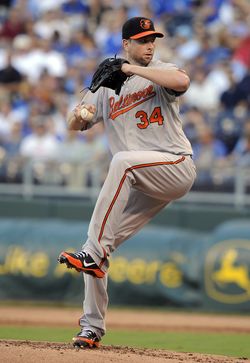 Feldman rebounded from a series of injuries with the Rangers to post a solid season between the Cubs and Orioles in 2013. The 30-year-old posted a 3.86 ERA with 6.5 K/9, 2.8 BB/9 and 49.6 percent ground-ball rate in 181 2/3 innings.
Feldman's contract represents both a significant raise for the pitcher — he earned $6MM in 2013 — and a significant change in philosophy for the Astros. Houston trimmed payroll in 2013 to the point where Erik Bedard's $1.15MM salary made him the only Astro with a salary north of $1MM. By signing Feldman and acquiring Dexter Fowler and his $7.35MM salary earlier this week, the Astros are making good on their promise to fans that they will spend money this offseason.
Feldman will join a promising young rotation that includes Jarred Cosart, Brett Oberholtzer and Brad Peacock (who improved significantly in the season's final two months). Houston also has promising prospects on the way in the form of Mike Foltynewicz and 2013 No. 1 overall pick Mark Appel. Beyond those already impressive names, the Astros will once again pick No. 1 overall in 2014, meaning that another highly touted arm could be added to the mix. North Carolina State left-hander Carlos Rodon currently projects as the consensus No.1 overall pick. Feldman was traded midseason and therefore wasn't eligible to receive a qualifying offer, meaning the Astros will not surrender a draft pick to land his services.
Feldman's contract is somewhat comparable to that of other mid-tier starters such as Jason Vargas and Phil Hughes. Though he was unable to secure the fourth year that Vargas commanded, Feldman also netted a higher annual value despite a more inconsistent track record. He and Brown were able to top my prediction of two years and a vesting option.
Ken Rosenthal of FOX Sports was the first to report the agreement and terms of the deal (Twitter link).
Photo courtesy of USA Today Sports Images.