Scott Feldman didn't exactly take a conventional path to his first free agent contract. As a 23-year-old in 2006, he enjoyed a solid rookie campaign in the Rangers' bullpen only to struggle through his sophomore campaign in the same role. Texas responded by giving him 25 starts in 2008, which produced an ERA over 5.00, but Feldman posted a 4.08 ERA in 189 2/3 innings in 2009. His ERA spiked back over 5.00 in 2010, and microfracture surgery on his knee caused him to miss most of the 2011 season. When he returned, the rotation was stacked, and Feldman went back to relief work. Well, for a half-season anyhow. After a 3.94 ERA as a reliever in 2011, he made another 21 starts in 2012 but saw his ERA creep north of 5.00 again.
Unfazed by his inconsistency and likely noting his more promising peripheral stats, the Cubs picked Feldman up on a low-risk, one-year deal worth $6MM (plus incentives) this past offseason.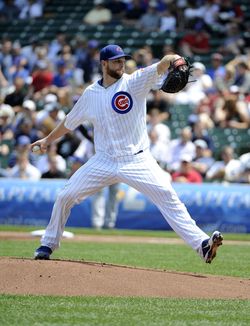 Strengths/Pros
Through all of Feldman's ups and downs, two things have remained constant: he has good command and he generates ground balls. Feldman's highest single-season BB/9 mark dating back to 2008 is 3.3, and he's posted a mark of 2.9 overall since that time (in 811 innings). He's never posted a ground-ball rate below 42 percent. His career mark of 47.3 is above the league average, and he's been even better in 2013, generating grounders at a 50.7 percent clip.
Feldman's career ERA of 4.56 is a near mirror image of his 4.45 FIP, 4.41 xFIP and 4.50 SIERA. An ERA in the mid-4.00s is a very reasonable expectation for Feldman, and his past three seasons of work have produced a 3.91 FIP, 3.91 xFIP and 3.95 SIERA, so there's plenty of room for optimism. The similarities between his FIP and xFIP are easily explainable — Feldman allows homers at roughly a league-average rate (10.4 percent career HR/FB). All of his work has come for teams in hitter-friendly home parks (the Rangers, Cubs and Orioles), demonstrating that he can succeed in difficult settings.
Feldman will be 31 years old in February, making him one of the younger starters available on the market. He won't be tied to draft pick compensation, as he's ineligible to receive a qualifying offer after being traded midseason.
Feldman had Tommy John surgery as a minor leaguer back in 2003 but hasn't had any arm-related health issues since. It can be argued that he has little mileage on his arm compared to similarly aged free agents; he's thrown 900 2/3 Major League innings to date.
Weaknesses/Cons
Feldman has never been a flamethrower, but his 90 mph average on his four-seamer and 88 mph average on his cutter this season are both career-lows. As a ground-ball pitcher, he doesn't miss many bats — his swinging-strike will rate sit between six and eight percent in any given season — nor does he generate many strikeouts. His K/9 rate of 6.5 this season is actually an improvement over his 5.6 career mark but still lower than the league average for starting pitchers (7.2).
The inconsistent track record that I alluded to before also makes his durability a relative question mark. Feldman has never tossed more than 189 2/3 innings in a season, and he's only topped 30 starts in a season on one occasion. As it stands, he's on pace to make exactly 30 starts this season, but he won't set a new career-high for innings pitched without hurling a pair of complete games in his final two starts.
Personal
Feldman, whose father is a retired FBI agent, is an avid supporter of the Wounded Warrior project. He and his wife have also hosted charity softball events in Dallas to raise money for wounded military members and participated in fundraisers and blanket drives for anti-domestic violence organizations. Highly competitive by nature, Feldman has a fairly quiet personality and is very popular among teammates. He embodies the "every fifth day" mentality, as he always wants to take the ball, even in the face of soreness and injury.
Market
Feldman isn't going to be one of the very top starters on the free agent market, and as such he may wait until after some of the bigger names have signed to ink a deal of his own. That waiting game is a delicate balance, however, as pitchers like Joe Saunders and Brett Myers can attest to. Each waited until after the New Year to sign and settled for a one-year deal last offseason while comparable arms like Brandon McCarthy, Kevin Correia and Joe Blanton signed in December and received two guaranteed years.
Feldman's ground-ball tendencies won't scare off teams in small parks, and unlike the Matt Garzas and Masahiro Tanakas of the world, Feldman probably won't be priced out of any team's range. He could be appealing to a large number of teams looking for a quality arm to slot into the middle or back of their rotations.
Predicted Contract
It's tough to foresee Feldman earning himself three guaranteed years on the open market given his inconsistent innings totals, but his 2013 can't be ignored. He's posted a 3.49 ERA with 6.5 K/9, 2.8 BB/9 and a 50.7 percent ground-ball rate to this point, which should be enough to land a two-year deal at a slightly higher rate than the $7MM he'll bring home this year after hitting his incentives. Perhaps his agent, Matt Brown of Pro Prospects Inc., could compromise by pushing for an easily attainable vesting option for a third year based on innings pitched.
Ultimately, Jeremy Guthrie's three-year, $25MM contract from last year could be his ceiling, but I predict that Feldman will sign a two-year, $17MM contract with a vesting option for a third season.
Photo courtesy of USA Today Sports Images.