Legendary Yankees shortstop Derek Jeter announced today on his Facebook page that he will retire after the 2014 season (hat tip to Andy Martino of the New York Daily News, whose colleague Mark Feinsand tweets that agent Casey Close has confirmed the retirement). Jeter, who turns 40 in June, re-signed with the Yankees — the only franchise he's ever played for — earlier in the off-season.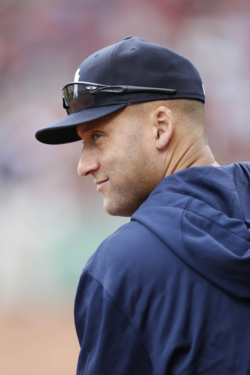 The coming season will be Jeter's 20th MLB campaign (though he saw just 51 plate appearances in his first taste of MLB action at age 21). Taken with the sixth overall pick of the 1992 draft, Jeter performed consistently in his rise through the system, and never looked back upon making the Yankees. Since becoming a full-time big leaguer in 1996, Jeter went 17 straight years with at least 542 trips to the dish. Over that stretch, Jeter posted a composite .313/.382/.448 line with 255 home runs and 348 stolen bases. Needless to say, his standard of consistent excellence has been matched by few others.
That run of good health came to an end last year, which Jeter says is a major reason for his decision today. "Last year was a tough one for me," said Jeter. "As I suffered through a bunch of injuries, I realized that some of the things that always came easily to me and were always fun had started to become a struggle." 
Indeed, while things always did seem to come easily to the shortstop, he was perhaps better known for his hard work and leadership. The Yanks' emergence from mediocrity and notable run of success aligns quite clearly with his career: the team qualified for the post-season in all but two of Jeter's seasons (2008 and 2013). Over that span, the team won added five World Series victories to New York's tally. And Jeter was even better in the post-season, posting a lifetime .308/.374/.465 triple-slash in a remarkable 734 career post-season plate appearances.
Along the way, of course, Jeter racked up ample amounts of individual hardware, including 13 All-Star appearances, five Silver Sluggers, the 1996 AL Rookie of the Year Award, and the 2000 World Series MVP. Somewhat surprisingly, particularly given his high profile, he never took home an American League MVP nod.
He was also awarded five Gold Glove awards, somewhat more controversially. Proponents of advanced metrics argue that Jeter has actually been rather a poor defensive shortstop: though he makes few errors, neither does he have much range. (Jeter has been worth -147 Defensive Runs Saved and a -67.8 UZR.)
Whatever one thinks of Jeter as a defender, he has unquestionably put up a Hall of Fame-worthy career. That inevitability was likely sealed when he notched his 3,000th hit, but is also supported by the numbers. Jeter has racked up a total of 71.6 rWAR and 73.8 fWAR to date, which places him at 58th and 45th, respectively, on the all-time list of position players. As Dave Cameron of Fangraphs argues, Jeter falls short of only Cal Ripken in total production among full-time shortstops since Honus Wagner retired in 1917. (Though, to be fair, Jeter is quite close to several other shortstops in both fWAR and rWAR, and falls behind several of them according to the latter metric.)
Those wins did not come cheap, however. Once his 2014 earnings are in the bag, Jeter will have earned over $265MM over his career. For sake of comparison, Chipper Jones — who racked up 85.1 rWAR over 1995-2012 — took down nearly $100MM less in his time in the bigs. And Carlos Beltran, who has been worth 67.5 rWAR since 1998, will reach just under $206MM by the time his new contract expires after 2016.
For the Yankees, Jeter's retirement confirms what had been suspected: the team needs a new shortstop for 2015 and beyond. Though Brendan Ryan will remain under contract, he does not profile as a starter on a team that hopes to win championships. At least one team executive told Joel Sherman of the New York Post that he did not know that Jeter planned to retire (Twitter link), so it is at least conceivable that today's announcement could have some impact on whether New York looks to make any more moves before embarking on the 2014 season.