FEBRUARY 13: The deal is official, tweets Bob Dutton of the Tacoma News Tribune. 
FEBRUARY 6: The Mariners have agreed to a two-year, $14MM deal with reliever Fernando Rodney, reports Jonah Keri of Grantland (via Twitter). Rodney, a client of MVP Sports Group, could earn up to $15MM if he meets the deal's incentives.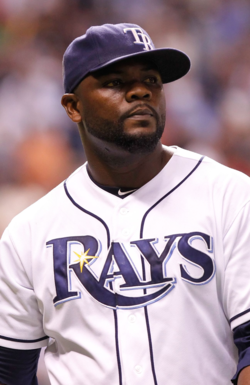 Soon to turn 37, Rodney established himself as one of the game's most dominant relievers during a 2012 career renaissance in Tampa Bay. Notching 48 saves for the Rays, Rodney threw 74 2/3 innings of 0.60 ERA ball that year, striking out 9.2 per nine while walking just 1.8 per nine. Though he was less dominant last year, Rodney still produced a 3.38 ERA over 66 2/3 innings, upping his strikeouts to a career-best 11.1 K/9 while surrendering 4.9 BB/9 (much closer to his career mark than the year prior). 
As MLBTR's Steve Adams explained in his profile of Rodney at the onset of the off-season, Rodney had shown some of the most overpowering stuff of any of the free agent closers.  Nevertheless, he was the last to sign of the premier bunch, and lands shy of the $18MM that Adams predicted he would get on a two-year pact. He checked in at 32nd on the list of the top fifty free agents, per MLBTR's Tim Dierkes.
Rodney's new deal bests that given by his former club to Grant Balfour (two years and $12MM), but falls short of the two-year, $15.5MM pact awarded Joaquin Benoit by the Padres. Amongst 2014 free agent closers, Joe Nathan (two years, $20MM) and Brian Wilson (two years, $19MM) have received the largest guarantees.
The Mariners were said to be one of the clubs most interested in Rodney, joining the Orioles and Mets in that regard. Though Danny Farquhar remains under team control for six more years after saving 16 games for Seattle last year, he will presumably bump down to a setup role now that Rodney is in the fold. Rodney represents the second-largest free agent commitment made by the Mariners this year, following Robinson Cano's massive ten-year, $240MM deal.
Seattle will hope that it gets the Rodney of the last two seasons rather than the less-than-stellar version of his earlier career. After strong seasons in 2005-06 in Detroit, Rodney posted five straight years in which he allowed over four runs per nine, though he saved 68 games for the Tigers and Angels over that stretch. Both the Steamer and Oliver projection systems like Rodney to produce solid results going forward, with each projecting him to post an ERA and FIP just north of 3.00.
In addition to control, one area to watch is Rodney's performance against left-handed batters. The righty has exhibited fairly minimal career platoon splits, allowing a .641 OPS to same-handed hitters and a .698 mark to lefties. Last year, however, those splits became more pronounced: he limited righties to a .169/.250/.288 line while posting a 3.00 K:BB ratio, but left-handers slashed .248/.363/.353 against Rodney and fared better in terms of true outcomes (1.92 K:BB). (Of course, the third true outcome — home runs — remains one of Rodney's calling cards: he has allowed just 0.32 long balls per nine over the last two years, one of the best rates in the game.)
Photo courtesy of USA Today Sports Images.