When Fernando Rodney signed a one-year, $2MM contract with the Rays that contained a club option for the 2013 season, many were surprised to see him receive a Major League deal. Rodney rebounded from an injury-plagued 2011 season that saw him walk more batters than he struck out to turn in the most dominant season (in terms of ERA) in Major League history in 2012. He'll hit the free agent market as one of the top relief arms available coming off a pair of big seasons in Tampa.
Strengths/Pros
Only one free agent reliever — Jesse Crain — posted a higher K/9 than Rodney's 11.1. Rodney whiffed 28.2 percent of the hitters he faced in 2013, a mark that can only be topped by Crain and Joe Nathan.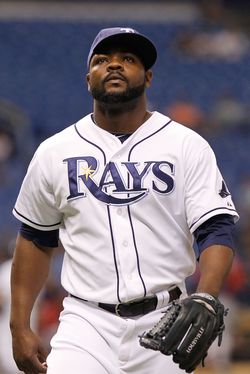 In terms of pure velocity, there's no free agent pitcher among starters or relievers with at least 10 innings pitched that can top Rodney's 96.5 mph average fastball. As such, it's no surprise to see him tied for the second-best swinging-strike rate at 12.5 percent. In other words, Rodney flat out overpowers hitters.
The 2013 campaign marked the fifth consecutive season in which Rodney has posted a ground-ball rate north of 50 percent. His 50.6 clip ranks sixth among right-handed peers on the free agent market.
As noted in the intro, Rodney's 0.60 ERA in 2012 was the lowest ERA in baseball history for a relief pitcher. Predictably, there was some regression in 2013, resulting in a 3.38 ERA. ERA estimators FIP (2.46), xFIP (2.88) and SIERA (2.69) all still love Rodney, though. As a result, Rodney ranks seventh among all qualified relief pitchers from 2012-13 in fWAR at 3.6.
Rodney remains a fastball/change-up pitcher, but the combination has become more effective with age, as he's continually added to his velocity over the past several seasons. While many pitchers see their velocity decline as they get older, there are no such concerns with Rodney.
Dominant as he was, Rodney won't be receiving a qualifying offer from the cost-conscious Rays, so he won't require a draft pick to sign.
Weaknesses/Cons
While Rodney's strikeout numbers are typically sky-high, so too are his walk totals. Rodney shocked everyone by averaging just 1.8 walks per nine innings in 2012 (5.3 BB%), but his command woes returned in 2013. Rodney has averaged 4.5 walks per nine innings in his career (11.4 BB%), and he averaged 4.9 per nine innings in 2013 (12.4 BB%). This past season was a make-or-break year for his walk rate; had he kept it down, teams may have believed that he'd corrected the issue. As it turns out, 2012's walk rate just looks fluky.
Rodney will turn 37 next March, so while he's increasing his velocity and delivering the best innings of his career, one has to wonder when he will start to show his age. There's plenty of precedent for relievers enjoying success in their late 30s and even into their early 40s, but Rodney lacks the track record of a Joe Nathan or a Mariano Rivera — two recent examples of such success.
That lack of a track record is what makes evaluating Rodney truly difficult. Heading into 2012, Rodney had a 4.42 ERA with 8.2 K/9 and 5.2 BB/9 over his previous 266 2/3 innings in the Majors. He'd never been able to hold down a closer's gig for more than a year at a time, as evidenced by the fact that he's saved almost as many games in two seasons with the Rays (85) as he had in nine previous seasons combined (87). Which guy is Fernando Rodney? The erratic, often hittable setup man or the dominant relief ace that held opponents to a .186/.266/.259 batting line from 2012-13? That's the question that scouts and GMs will have to answer this winter.
Personal
Rodney and his wife, Helen, have four children ranging from eight months old to 12 years old, according to the Rays media guide. As noted by MLB.com's Bill Chastain, Rodney is popular among his teammates, with Joel Peralta among the most vocal about his desire for Rodney to return. Chastain also notes that Jose Lobaton would like to see the closer return as well.
Market
Peralta feels that Rodney would take a discount to remain with the Rays. Peralta says that he and Rodney are like brothers, and that Rodney is beloved in the clubhouse. That thinking directly contradicts a recent report by Marc Topkin of the Tampa Times, who wrote last weekend that Rodney will explore the market.
Rodney's agent, Dan Lozano of the MVP Sports Group, will likely attempt to position his client as the next-best closer on the market after Nathan. They'll have a compelling point, as Rodney's 85 saves in 2012-13 are the most of any free agent, and his 1.91 ERA in that time is topped only by Crain and his balky shoulder. Unfortunately, it looks to be a buyers' market for relief pitchers, as Rodney will be joined by Nathan, Grant Balfour, Joaquin Benoit, Edward Mujica, Jose Veras and the recently released Chris Perez — each of whom saved at least 21 games this season. And that doesn't even count Brian Wilson, he of 171 career saves, who will be a free agent after re-establishing his value and announcing his health in a late-season cameo with the Dodgers.
Expected Contract
Rodney has transformed himself from a 2011-12 afterthought to a Top 50 free agent for the 2013-14 offseason. He's a candidate to secure a multiyear contract, even though competition among closer types will be fierce. As is the case with all relievers on this market, it will behoove Rodney to sign early in the offseason while his options are still plentiful.
I'm comfortable projecting the same two-year, $18MM contract for Rodney that I projected for Balfour earlier in the month. Ultimately, our predictions are going to be off on some of these relievers, as there are just too many closer types competing for a limited amount of jobs. Some will be left standing in January and be forced to settle for one-year deals or eighth-inning roles that won't pay as well. However, with no way of knowing which relievers will come off the board first, I'm sticking to the formula of predicting the maximum dollars they can earn if they sign early in free agency.
Photo courtesy of USA Today Sports Images.